This year the Bol News Network is going to liberate a very unique and exclusive game show and the name of this game show is Pakistan Main Game Show Ayse Hi Chale Ga. This game show is actually a game segment of bol network Ramadan transmission 2017. Famous host Doctor Aamir Liaquat will host this show in a new way that is quite different then his last year 2016 transmissions. During the live confers about bol network ramzan show 2017 Dr. Aamir Liaquat told public about this game show. He said that this show will be completely according to the Islamic thoughts and question asking in this show will be relating to Ramadan and Islam. He also told about prizes, timing, days and all details about how to take a part in this game show. So if you are waiting for the biggest and the most amazing game show during Ramadan without disturbing your fast and taravih routine we suggest you to watch live Pakistan main game show ayse hi chale ga on bolt TV Saturday, Sunday. Keep on reading this post to get the further details about this Dr. Aamir Liaquat bol network game show 2017.
Pakistan Main Game Show Ayse Hi Chale Ga On Bol Tv Saturday, Sunday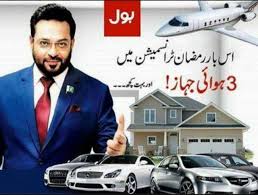 This game show will only be on air on Saturday and Sunday only on Bol TV News Channel
Starting Time Is: 10:00 PM night but the ending time is not yet released
Starting Date: From 1st of Ramadan to Chand Rat
Host Name: Doctor Amir Liaquat Hussain
Pakistan Main Game Show Ayse Hi Chale Ga Prizes:
3 Aero planes
30 Homes
60 Vehicles
Gold
These are the four big prizes of Bol channel ramzan transmission 2017. Beside these gifts there are so many other gifts like branded cloths, homage, electronics and much more which is yet hidden due to prudent security reasons by PEMRA.
What is New In This Game Segment?
This game show is totally different than the previous year's game shows like no one will come to the audience to ask question. They have also deterred the trend of throwing the gifts and prizes in audience because this system disturbs the decorum of the live show. So the new in Pakistan Main Game Show Ayse Hi Chale Ga is; the prizes of each person will be delivered to his/her seat by hand on the spot on every day, The live TV audience who are watching Pakistan Main Game Show Ayse Hi Chale Ga on TV at home, can take a part by call to answer a question and the majority of big prizes will be only given to viewers at home.
So these are the complete details about Pakistan Main Game Show Ayse Hi Chale Ga on Bol Tv Saturday, Sunday. Host name, date and time are all written here with details. Never miss to participate in this show because there are very big prizes will be stipend to the winners. For more about this transmission please visit the comments box below.