Here is a big news for Warid and Jazz users together. As we have heard that Jazz has bought Warid but there was no any news about their combine package was released. But now the biggest call offer of Pakistan has been published with the name as "weekly all network bundle". Warid and Mobilink call packages are now on on-net and off-net, in which Warid and Jazz users will get a lot of benefits relating to free call minutes, SMS and free internet MBs. Yes of course there is a lot for you to achieve which this fabulous offer where you will get a feel about how to enjoy a single offer for tow network. So above all, now you are intimated that once reading this offer you must read the terms and conditions for this offer that will let you know about hidden charges, taxes and other deductive charges. After reading this page you will get all those details and will be more clarify about this tremendous offer by the Pakistan's biggest network Jazz and Pakistan's 4G LTE provider network Warid. So now keep on reading this page to get subscription & un-subscription code, status string and info string.
Warid And Mobilink Call Packages Are Now On On-Net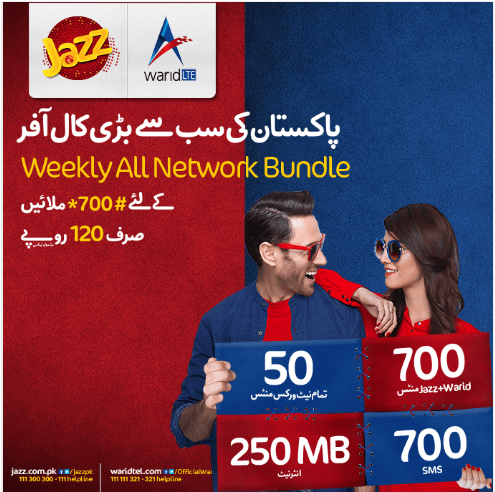 Benefits of Weekly All Network Bundle
On-net Call Minutes: 700 Jazz + Warid
Off-net Call Minutes: 50Mins Except Warid and Jazz
Internet: 250MBs
SMS to All Networks: 700
Packages: All
How to Subscribe/ Un-Subscribe
Subscription:  *700#
Un-Subscription:  *700*4#
Status String:  *700*2#
Info String:  *700*3#
Subscription FeeRs. 120 (Incl. Tax)

To Subscribe Dial*700#

Validity7 Days
Fair Policy Terms and Conditions
Package will be automatically cancelled after seven calendar days and user will have to again subscribe the package by dialing *700#
If package is not used during its validity the free minutes and SMS and MBs will be expired
Internet speed will be according to your device ability and your area that is 2G, 3G and 4G LTE
Minimum 0. 15 balance should be in your account to make calls through bundle
Service charges and operational fee will be applies
So if you is a user of Warid or Jazz you must avail this offer about Warid and Mobilink call packages are now on on-net and off-net minutes, messages and internet minutes. Or in case of any further confusion just visit the official website or comment below.