Telenor Internet Easy Load Service For Internet Balance is all here for you. What Telenor users should be doing is that, just go to your desired and nearest one Telenor retailer shop and have the internet easy load service for you. This easy load will only be used for your internet. As soon as you will be charging your Telenor account then that balance will be shifted to your internet account. Those Telenor users who could not use internet previously before of high rates, they can do so now because this service is quite cheap and low in cost.
Telenor Internet Easy Load Service For Internet Balance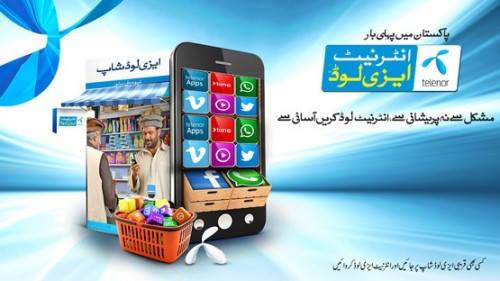 Details of Telenor internet easy load service
You will be charged 1 Rs for 1MB. This 1 MB internet can be used on your 2G as well as on your 3G data services. You cannot transfer this Telenor internet easyload. This easyload can only be used for internet purpose and tasks.
This Telenor internet easy load service is for the Djuice users as well as for the Telenor prepaid customers too. You do not need any kind of subscription to activate this offer. If you will have an easy load of 50 Rs then you can enjoy internet upto 50 MB.
To check that how much internet usage is left, you have to dial *200#. None of your loan amounts will be deducted from this internet easy load service of yours. Just keep on checking that how much internet you have remaining in your cell phone!
Make sure that you ask your retailer to enter correct phone number of yours because this easy load service method cannot be reverse.
As soon as the validity period will be expired of this service, you will not be able to use your internet balance.
Do make as much use of this Telenor Internet Easy Load Service For Internet Balance as you can. Now, you can have an easy load for your internet too. This service is quite cheaper. If you want just 10 MBs then just get done the with the easyload of Rs. 10. Try this service and share your feedback and comments with us. Your personal balance and your internet balance will be having their own validities. Keep in mind that this service should be used and consumed within a designated period. Once the validity time of this service will be gone then your internet easy load will also be wasted.