The one of the most selling brand and the most trusted smart phone company in Pakistan is Samsung. It is providing the best and the most use full features with better looking and easier to holding mobile phones in every price range. It is providing it's the best services for its customers against complains. So here I have assembled the Samsung mobile service center in Islamabad contact phone no, address. So if you are living in Islamabad and having some issue with your Samsung mobile and want to claim it at the service center then you are here on the place where you will get complete location of Samsung mobile repairing centers in Islamabad. You are suggested and advice you that if you find some issue with you smart phone you should never concern with local shop repairing labs because they are not authorized and don't have enough knowledge to fully repair your handset. The repairing staff at service centers are well trained fully equipped with genuine parts. So let's visit the Samsung mobile service center in Islamabad for nay claim about any issue with your expensive or cheap mobile.
Samsung Mobile Service Center In Islamabad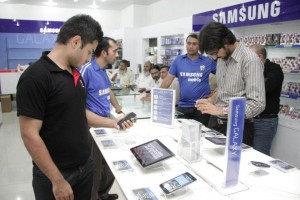 Samsung Mobile Service Center In Islamabad
M& P Service Center Islamabad
Address: Islamabad Mezzanine Floor Main Blue Area Faz Al e Haq Road in Black Horse Plaza Islamabad Pakistan
Phone Number : 051-2605785-4
____________________________________________________________
Green Teach Service Center Rawalpindi
Address: Rawalpindi Plot Number 369 Zaman Center Bank Road Saddar Opp Singapore Plaza Rawalpindi
Phone Number: 051-5120334-37
So these are two service centers which are officially working and welcoming its valuable mobile users. So you are intimated that never get deception from other fake claimers who are sitting at different points. You are also suggested that always visit the service center physically and never relay on others about to take any about your expensive mobile phone.
Samsung is a Korean based electronics company that is producing various electronic products along with mobile phones. All of its products are well trusted and long lasting but it is much famous with its mobile phones. It has every range of mobile starting from Rs. 2500 and its highest range mobile Galaxy Note 7 in Rs. 93, 499/-. Many of its brands will be introduced soon in Pakistan like Galaxy A8, Galaxy C9 and Galaxy S8. So if you is a user of Samsung mobile and having any issue with your mobile then must visit the Samsung mobile service center in Islamabad contact phone no, Address.