IMO users can check Free IMO Package 2020 Code Zong, Ufone, Jazz, Telenor, Warid network. IMO is instant messaging App which allows its users to send and receive messages, making audio and video calls and sharing of media. This App can help you to make video calls in any country of this world without any charges if you have an internet package or connected to WIFI. In Pakistan, All telecommunication companies including, Jazz, Warid, Telenor, Zong, and Ufone has introduced codes for free IMO in Pakistan. With the rise of competition among these Telecom companies, all companies strive to provide the best services in Pakistan. They attract their customers using different techniques including free packages for months. Today, we will discuss the Free IMO code in Pakistan for all networks.
Free IMO Package 2020 Code Zong, Ufone, Jazz, Telenor, Warid
With the increase of IMO use, Telecommunication companies in Pakistan have introduced Free IMO Package for their customers. No matter you are a Zong user, Jazz, Telenor or Ufone user, you can simply use free IMO on your mobile by subscribing to free IMO package for all networks.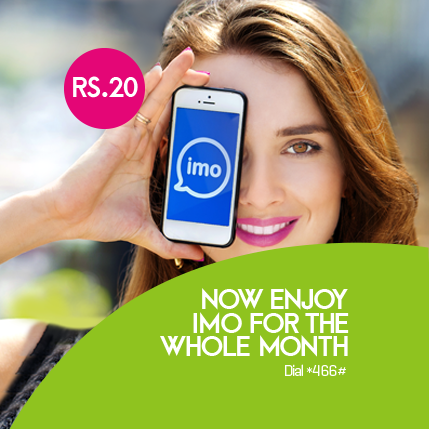 Zong Free IMO Package 2020:
Zong is the first Telecommunication Company in Pakistan which has introduced IMO offer for its customers. Now you can enjoy Up to 2 GB for IMO audio calling, video calling and Chats in just RS 20. You can also use this package to download videos from IMO too. The Zong Free IMO Package Code and other detail is as follow.
2 GB Internet for IMO
Valid for 30 Days
Package Price is RS 38 plus Tax
Activation Code is *466#
Zong Internet Packages
Ufone Free IMO Package 2020:
Ufone is currently not offering any specific package for IMO. It is expecting that Ufone will introduce Ufone Free IMO Package for its customers in Pakistan in near future. After the announcement of this package, you will able to check to check the activation code of this package from this website.
Jazz Free IMO Package 2020:
Jazz is also not offering Jazz Free IMO Package to its customers yet. Those who want to use IMO on their Mobile can subscribe to other Jazz Internet Packages on daily, weekly and monthly basis. If the Jazz will introduce the IMO Package then it will be available here too.
Telenor Free IMO Package 2020:
There is also no Telenor Free IMO Package for Telenor . Now what to do if you want to use the internet for IMO use? In that case, you have to activate to any other Telenor Package according to your budget. All the Telenor Packages 2020 are given below.
Warid Free IMO Package 2020:
Warid free IMO Package is also not available for Warid mobile internet users. Warid has other exciting Internet Packages for Its customers. You have to check the other packages of Warid which are given in the below link.
So if you want to get more detail about Free IMO Package in Pakistan then stay with us on this website.