Chief Minister of Punjab Shahbaz Sharif has announced the new recipient scheme with the named as CM Punjab orange cab scheme 2017 for unemployed youth. Under this scheme the Government is set to depart 100, 000 (1 lakh) vehicles among youth as per the eligibility criteria and rules regulations which is not yet defined. On the meeting desk Shahbaz Sharif express his feelings towards the framework of the scheme developed electronically in order to restrict any possibility of corruption or mismanagement. Only those will obtain their cars who are really eligible and desiring a vehicle to meet their expenses. Well it is a purely public based scheme in which cars will be distributed among the citizens of 6 big cities in Punjab including, Lahore, Multan, Faisalabad, Rawalpindi, Gujranwala and Sialkot. So if you belongs to any of these cities and want to obtain a car from CM Punjab orange cab scheme 2017, then keep on reading this post to make sure if you are eligible for this scheme or not.
Eligibility Requirements for CM Punjab Orange Cab Scheme 2017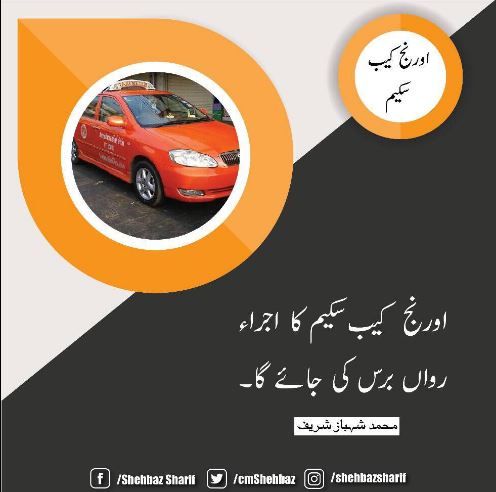 Every applicant must be full filling these following general criteria.
Must be a noble citizen of Pakistan
Holding a valid CNIC card
No criminal record found in police station
Age should not more than 35 years old
Domicile of relevant area is necessary
Candidate must be unemployed
How to Apply for CM Punjab Orange Cab Scheme 2017
Same like careem cab service this orange cab service is also works electronically and payments will be made on a digital system. orange colored cars will be issued to the owners who will registered in Government and one can place order via a smart phone app easily available on app store and istore. Well till the time the Orang Car service is not released in Punjab. But as soon as the advertisement is announced in the news paper the complete applying procedure and other terms and conditions will then be released.
Hence this is all the details about CM Punjab orange cab scheme 2017 for unemployed youth. This is just a plan but not yet released in news papers or anywhere. Until it is announced just keep on tuned with this page to get any latest update or news about Mian Shahbaz Sharif Orange Car service 2017.