All the model papers for the Lahore Board Inter Part 1, 2 Model Paper 2022 are available on this page for those students who will appear in the Inter Exam. They all get model papers through this page and all students have the option to get these model papers with just one click. BISE Lahore announces model papers every year so that the students can get information about the paper pattern. It helps students understand the board's point of view. The model paper is very important for any exam, especially for intermediate classes, because through model papers you can get all the paper patterns, questionnaire styles, and all that information that is very necessary for students who will attempt intermediate papers in a few months.
Lahore Board Inter Part 1, 2 Model Paper 2022
The Lahore board officially announced the exam date for the inter part 1, 2 classes exam. It will be conducted under the supervision of the Lahore board in the first week of May. If you have not completed your exam preparation, then you have a very short time here. All the subjects for the Lahore board inter part 1, 2 model papers are available on this page like Banking, Biology, Chemistry, Civics, Commercial Geography, Computer Science, Economics, Education, English compulsory, English elective, History of Islam, History of Pakistan, Islamiyat Elective, Mathematics, Pak Studies, Persian, Philosophy, Physic, Punjabi, Sociology, Urdu Compulsory, and Urdu. So get this all Lahore board inter model paper 2022.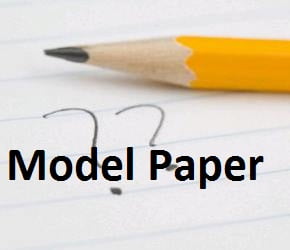 Lahore Board Inter Part 2 Model Paper 2022:
All Inter Part 2 students who are going to appear in the annual exam of FA, FSC, ICS, or ICOM Part Two can check the Lahore Board Inter Part 2 Model Paper 2022. If we say it is an educational turning point, then this is true because if you get good marks in intermediate, then you can get admission in a well-reputed educational institution. If you get bad marks, then your educational career will be very disturbed. Do not waste your time and get all these inter part 2 model papers 2022 through this page. You can get all the links subject to vise Click and get the model paper.
Lahore Board Inter Part 1 Model Paper 2022:
Like inter part 2 students, intro students can also get the Lahore Board Inter Part 1 Model Paper 2022 from this website. Just click on the below link to check the model paper of your concerned book.Sekho.com.pk is one of the best websites that provides all subjects' model papers. If you have finished your exam preparation, you will need this model paper because it will give you a more complete picture of your exam preparation.
So these are the Lahore board inter part 1, 2 model papers 2022, which you can check online by clicking on the links in front of each subject. This is the fastest-growing educational website that provides you with all the educational news and updates like admission details, fee structure, date sheet, and roll number slip. Results are covered here along with all Pakistani board, college, and university educational news and updates, so keep in touch with this website and get all this and many more.