Pakistan most searching personality Reham Khan is today our discussion topic. We are talking about Tabdeeli Reham Khan Kay Sath Show Time on Neo Tv details. She is well reputed and controversial lady according to media and social media reports. But here we want to mention for all Public and specially PTI supportive, Reham Khan is media personality but she is also mother of Three Children so any comment about Reham Khan will affect her children life.  Well after this important note you must have information Reham Khan now living in Pakistan after 2nd divorce. These days she is working for Neo TV channel as a Talk show Host. Her Neo TV channel program name is Tabdeeli Reham Khan Kay Sath. Now below side we are sharing her life short details included personal and professional life journey.
Tabdeeli Reham Khan Kay Sath Show Time On Neo Tv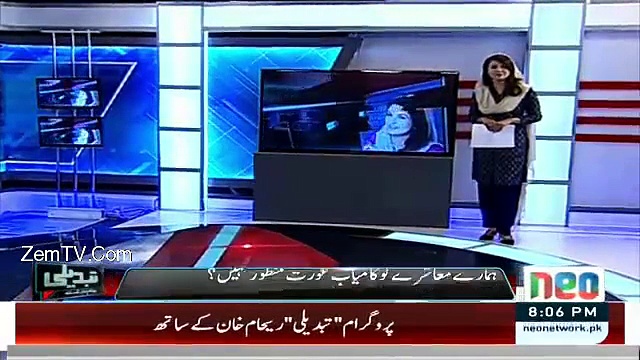 Who Is Reham Khan:
Before Two years Reham Khan name is not popular in Pakistan. She was associated with DAWN News but after second Married divorce her DAWN news channel journey was ended. According to Media reports Reham Khan is British Pakistani Journalist and Film producer, she was started her professional career through BBC Weather news readers. Her old life is very controversial according to Pakistan Culture because her different short dress dance video is available on youtube. Reham Khan point of View about her past is very valid, according to her point of view "any person personal life is pure secret so no one has to need interrupt her life". Her first marriage was done with her cousin DR. Ejaz Rehman, this married journey was ended on 2005. In 2015 she was married with PTI chairmen and well known celebrity Imran Khan but due to different personal reason both relation was ended after 9 months.
Tabdeeli Reham Khan Kay Sath Show Time :
Show is continuing in Neo TV Channel.  Reham Khan is host of this Show. Show name Tabdeeli Reham Khan Kay Sath. You can watch this show in New TV on every Monday to Tuesday at 8 pm.