Google adsense is the one of the most famous method to earn money online without investment. Today thousands of Pakistani Bloggers earn a handsome amount at home. Before the Last google adsense up gradation Pakistan country name are not included on those countries that can change their Payee name. Payee name mean the only person which name payment issued or collect. Right now you can change your Payee name in google adsense.  You can also add some of additionally email addresses also.
Some of the conditions on which you can want to change the payee Name of like some of person death, marriage and two companies are merge. You can also want to fix the misspelling. Some of people use the short name but western union agents cant issued the payment without verifying you ID card name. you can always submit the complete name first or second name properly.
If you want to change the google adsense payee name in Pakistan then you can follow the instructions.
How to change google adsense payee name in Pakistan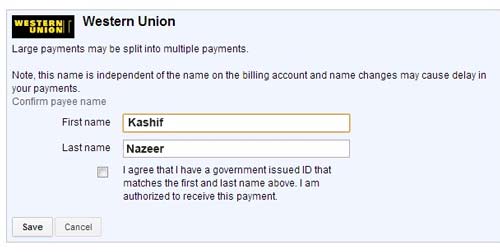 If you have google adsense account the sign in
The visit the account settings page
In account information section you can click on the edit payee name
Review the Payee name check the properly spell on the name according to your CNIC  after review continue
Note your payee name change effect on your next payment cycle. changes are made before the 16th of the month can take effect. After the 16th of the month cant disturb you payment cycle of the month.
Google adsense team Reply you within 24 hours