ZTBL jobs 2016 officer grade III nts form online download from here and can get all the information about this job, Zarai Taraqiati Bank is in search of talented, well educated, having great mental accessibility and able enough to meet the eligibility criteria of the job. ZTBL is offering you the jobs for the post of Officer grade III at all, You can apply if you think that you are able enough to get and do this job, here in this post we have given you all the details and information of the job like job eligibility, job criteria and all information related to this job are available here. ZTBL  is the major public sector specialized financial institution, based in Islamabad, focusing on rural finance and development, eith a wide network branches all across the country. Candidates want to apply must meet the eligibility criteria of the job, candidates must have maximum age of 28 years as on the last day of submission of application.Applications having Graduated/Masters degree in Business, Commerce, Accounts, Banking, Finance, Agriculture, Economics Management and IT/Corporation are eligible to apply for this job of Officer Grade III at all.
Last Date:   Monday 26th December,2016
Test Date:  Will be Announced Soon
ZTBL Jobs 2016 Officer Grade III Nts Form Online Download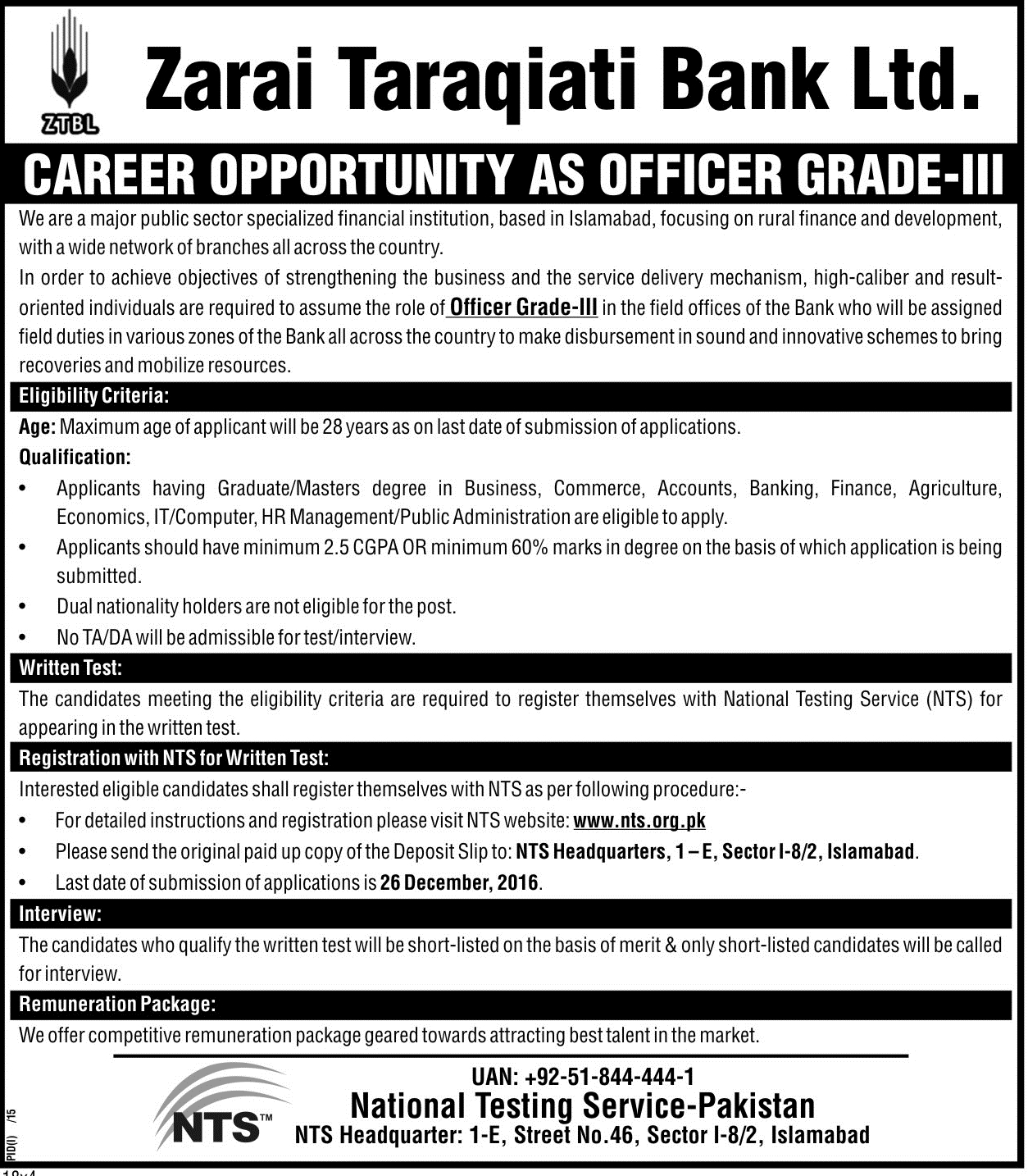 | | |
| --- | --- |
| To Download Application Form : |  Click Here |
Applicants want to apply get online application form and deposit slips form here and also available on the official site of the NTS. After this duly fill it and send it to the headquarter of the NTS, Islamabad. Candidates are informed that test fee is non refundable at all, mobile phones will not be allowed in test center.Application submitted bu hand will not be acceptable. So if you are eligible to apply, get to know that the last date for submission of application is Monday 26th December, 2016 and the test will be taken by NTS.
Never late to apply for Zarai Taraqiati Bank Limited jobs 2016 and must appear in its entry test that is expected in January, 2017. It is a good job opportunity for eligible candidates so must apply for it with in due date and time…