Board of revenue Sindh from the government of Sindh is offering jobs 2014 of training coordinator and training consultant. With these jobs board of revenue Sindh is offering chances of better career. Board of revenue Sindh is a department of government of sindh that controls all the matter related to the collection of revenue which includes land taxes, land revenue, preparation of land records and other matters relating thereto. Board of revenue Sindh has a duty to provide a economic prosperity in Sindh and then In Pakistan. When all the land taxes and revenues will be collected from the citizens then it will support the country to establish a strong government that can work without any pressure from other countries. It also help the province to regulate its process as an independent state of the country. Sindh board of revenue has a great responsibility on its shoulders. Board of revenue is offering these jobs to give an effective training to its employs that's why eligible candidates are requested to apply. Here we are providing you the details of these posts, along with eligibility criteria and application procedure. The candidates are required to read this post thoroughly to get all the information about the jobs.
Sindh Revenue Board Jobs 2014 Training Coordinator, Consultant Test and Interview Schedule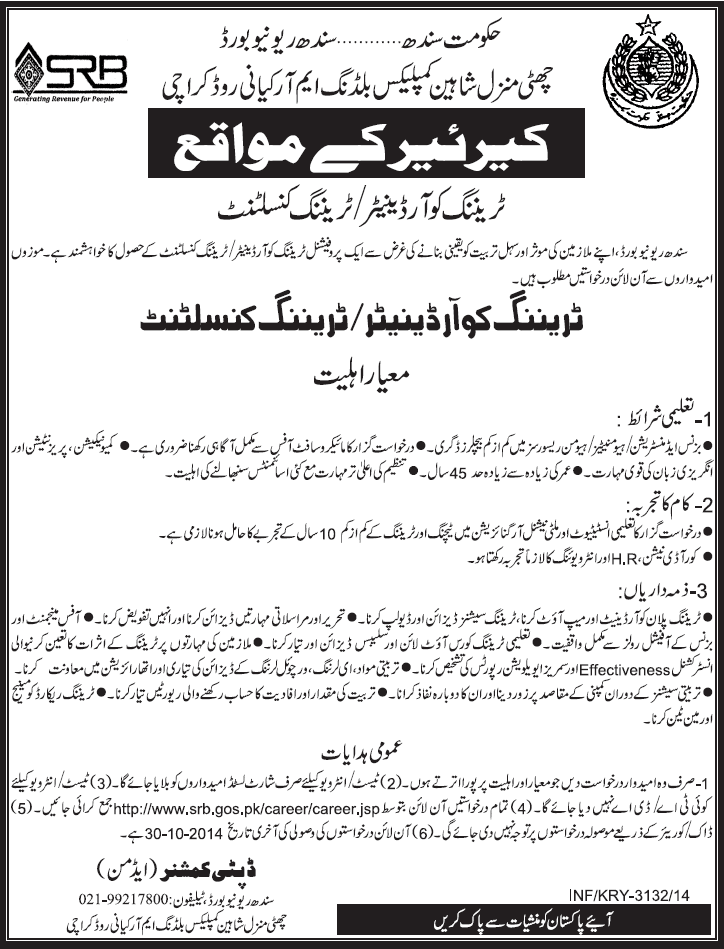 Eligibility criteria
Minimum bachelor's degree in business administration/ humanities and human resaurses.
Complete understanding about the Microsoft office.
Expectancy in communication, presentation and English.
Age limit is given as up to 45 years.
High quality organizational skills to handle a number of assignments.
Minimum 10 years of experience of teaching and training in educational institute and multinational organization is required.
Experience is required in Coordination H.R and interviewing.
Application form
To download the application form click here.
Last date for the submission of forms
Officials have given the last date for the submission of application forms. After that date no applications will be accepted. The candidates who are willing to apply must apply before that dead line. The date announced by the officials is 30th October 2014