Application forms for Punjab School Education Department 2016 Jobs are available here. Last date for submission of application forms is also mentioned here. The government of Punjab has announced 2016 jobs for School Education Department. Many of the posts are available for this department of Punjab. School education department has given the task to test the eligible candidates to national testing service. NTS has opened the registration for the written test and last date for submission of application forms is also announced by the national testing service. Government of Punjab has provided 17 posts for which eligibility criteria of each post is given. Punjab School Education Department in which these jobs are available is a government department that is responsible for the policy making and for the legislations. This departments holds the charge of Primary, Elementary, secondary and higher secondary education.  The candidates who are willing to apply must fit in the eligibility criteria and then they are required to apply for the NTS Written test by online application form. Here we are providing you the detailed description of these jobs. Application forms for each post are uploaded here for the convenience of the willing candidates. Eligibility criteria are also mentioned to let the candidates know if they are eligible to apply or not. For further details about these jobs and for the list of selected candidates keep concerning our website.
Punjab School Education Department Jobs 2016 NTS Educators Form, Last Date
Eligibility criteria
The candidates who are willing to apply in the above mentioned posts must fit in the eligibility criteria. Officials have given different eligibility criteria for each post. Eligibility criteria consist of educational qualification and age limits. The candidates want to check the eligibility criteria can concern the official advertisement given in this post.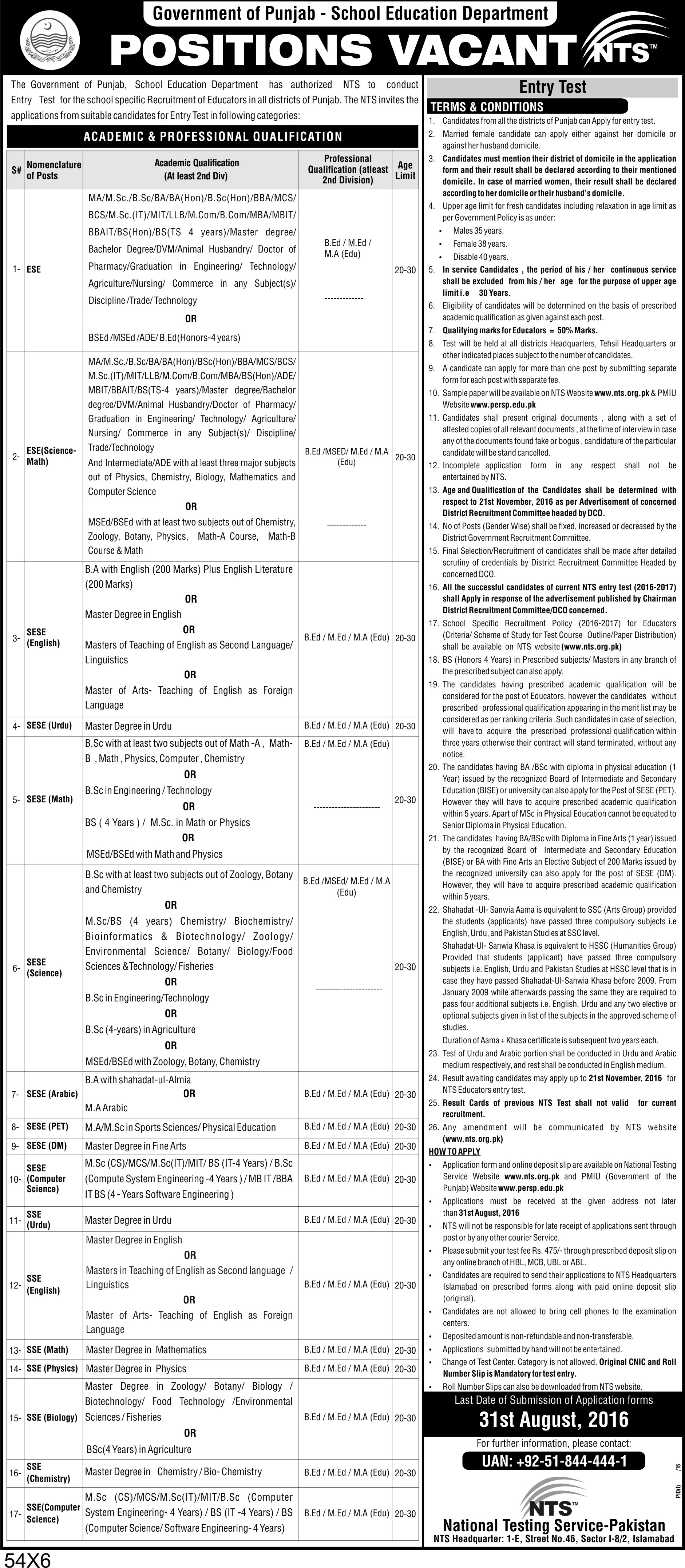 Application forms
The candidates who fit in the described eligibility criteria can apply for the NTS written test. For the application to this test the candidates require the application forms. Here we are giving you the application form. One can easily download this application forms from here. Application form for each post is uploaded against the name of the post.
| | | |
| --- | --- | --- |
| 1 | FORM A ESE | Click Here for Application Form  |
| 2 | FORM B ESE (SCIENCE-MATH) | Click Here for Application Form  |
| 3 | FORM C SESE (ENGLISH) | Click Here for Application Form  |
| 4 | FORM D SESE (URDU) | Click Here for Application Form  |
| 5 | FORM E SESE (MATH) | Click Here for Application Form  |
| 6 | FORM F SESE (SCIENCE) | Click Here for Application Form  |
| 7 | FORM G SESE (ARABIC) | Click Here for Application Form  |
| 8 | FORM H SESE (PET) | Click Here for Application Form  |
| 9 | FORM I SESE (DM) | Click Here for Application Form  |
| 10 | FORM J SESE (COMPUTER SCIENCE) | Click Here for Application Form  |
| 11 | FORM K SSE (M.A URDU) | Click Here for Application Form  |
| 12 | FORM L SSE (ENGLISH) | Click Here for Application Form  |
| 13 | FORM M SSE (MATH) | Click Here for Application Form  |
| 14 | FORM N SSE (PHYSICS) | Click Here for Application Form  |
| 15 | FORM O SSE (BIOLOGY) | Click Here for Application Form  |
| 16 | FORM P SSE (CHEMISTRY) | Click Here for Application Form  |
| 17 | FORM Q SSE (COMPUTER SCIENCE) | Click Here for Application Form |
Last date for submission of application forms
The officials of National Testing Service have given a due date for the submission of application forms. The candidates who are willing to apply are required to submit their application forms before this due date. After this date no application forms will be accepted. Due date as given by the officials is Monday 31st August, 2016