School education department on behalf of government of Punjab is offering Punjab Educators science and arts jobs 2016 through advertisement. Advertisement is provided here for you along with application forms to apply for these jobs. There are up to 17 posts that are vacant to apply for. A school education department has chosen NTS to testify the candidates according to the basis provided by the government. NTS is National Testing Service that provides the platform to test the candidates according to the institute. NTS is accepted Nationwide and giving its services. These jobs will be given on the basis of test that will be organized and conducted by NTS. NTS has opened the registration for the tests and along with this, last date for submission of application forms is also provided by the NTS. School education department has also given a certain eligibility criteria under which the candidates will be able to apply for the jobs. These jobs are actually for professional teachers of arts and science. Here we are providing you all the details regarding to these jobs. These details will include information that is mentioned in the advertisement. Online application forms for each post if uploaded here separately. The candidates who are willing to apply can get all the information from here. For more news and updates stay with us!
Punjab Educators Science, Arts jobs 2016 Advertisement Application Form
Advertisement by School education department
Officials of school education department have released an advertisement for the Punjab Educators Science, Arts Jobs 2016. The main purpose of this advertisement is to inform the people about these vacant posts so that eligible candidates can apply for the jobs. In this advertisement all the required information is also mentioned. From the names of vacant posts to all the essential credential details are given in the post. For the convenience of the candidates and to provide the official and authentic information to our visitors we have uploaded this advertisement for you. Below is the image of the advertisement. The candidates are required to read this advertisement carefully before applying to these jobs.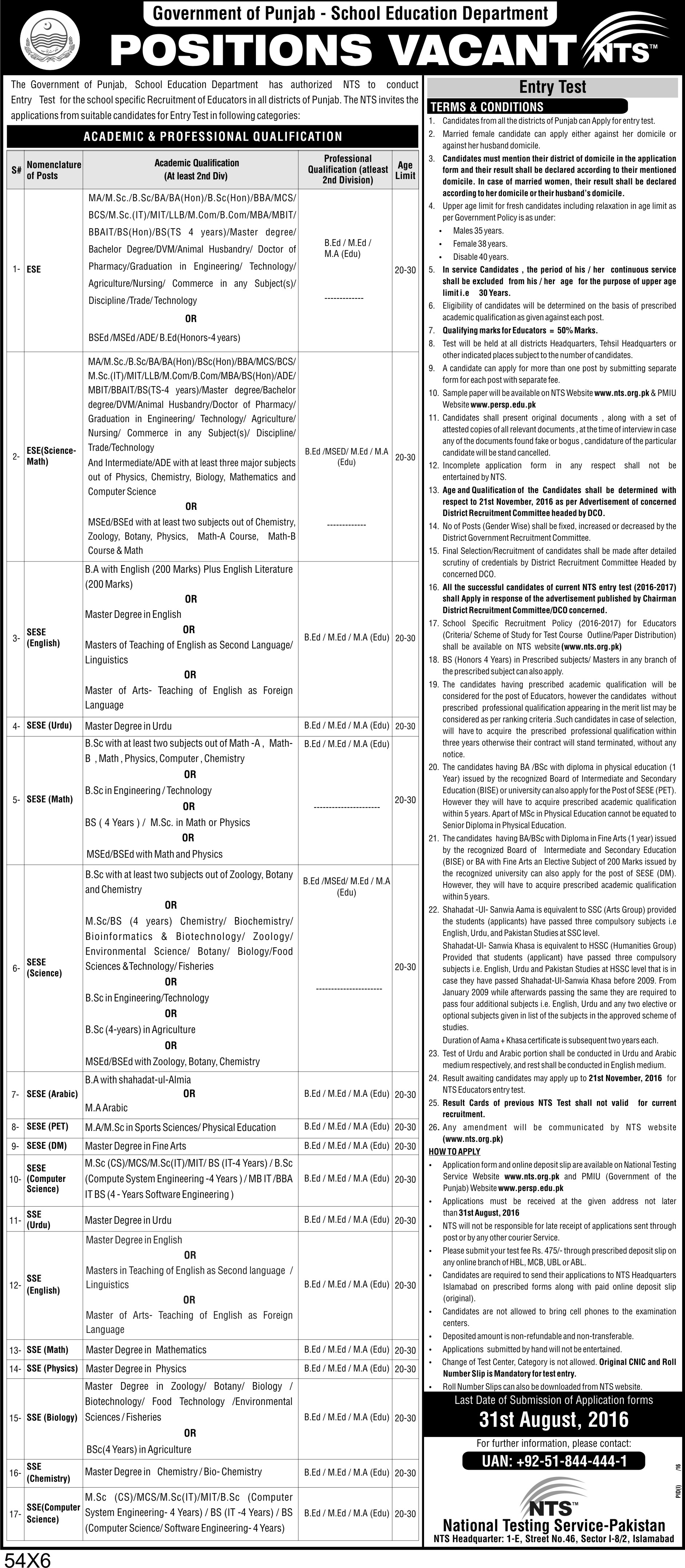 Vacant posts and their application forms
| | | |
| --- | --- | --- |
| 1 | FORM A ESE | Click Here for Application Form  |
| 2 | FORM B ESE (SCIENCE-MATH) | Click Here for Application Form  |
| 3 | FORM C SESE (ENGLISH) | Click Here for Application Form  |
| 4 | FORM D SESE (URDU) | Click Here for Application Form  |
| 5 | FORM E SESE (MATH) | Click Here for Application Form  |
| 6 | FORM F SESE (SCIENCE) | Click Here for Application Form  |
| 7 | FORM G SESE (ARABIC) | Click Here for Application Form  |
| 8 | FORM H SESE (PET) | Click Here for Application Form  |
| 9 | FORM I SESE (DM) | Click Here for Application Form  |
| 10 | FORM J SESE (COMPUTER SCIENCE) | Click Here for Application Form  |
| 11 | FORM K SSE (M.A URDU) | Click Here for Application Form  |
| 12 | FORM L SSE (ENGLISH) | Click Here for Application Form  |
| 13 | FORM M SSE (MATH) | Click Here for Application Form  |
| 14 | FORM N SSE (PHYSICS) | Click Here for Application Form  |
| 15 | FORM O SSE (BIOLOGY) | Click Here for Application Form  |
| 16 | FORM P SSE (CHEMISTRY) | Click Here for Application Form  |
| 17 | FORM Q SSE (COMPUTER SCIENCE) | Click Here for Application Form |