LDA (Lahore Development Authority) is offering jobs on the contract basis of 1 year time period. These posts are offered for the project of the automation of LDA through development and implementation of integrated management software. LDA officials have given all the description of the jobs along with the eligibility criteria. One must read all the information mentioned here before applying to the job. Earlier LDA was said as Lahore Improvement Trust which was later on given the name of Lahore Development Authority after the ac of 1975. There are three main wings of LDA, Urban Development Wing, Water and Sanitation Agency and Traffic Engineering Planning Agency. The mission of the LDA is to establish a well developed Lahore for making a quality life of metropolitan in Lahore. LDA got several duties to be done to resolve the issues held in the way of development of Lahore. From a past few years Lahore is being developing with a remarkable speed. There is a great difference between the Lahore today and Lahore some years before. Now roads are much wider, distances are getting smaller and the beauty of the developed Lahore is remarkable. Here I am providing you the description of the application procedure along with eligibility criteria and last date for the submission of applications.
Lahore Development Authority LDA Jobs 2014 Application Form, Last Date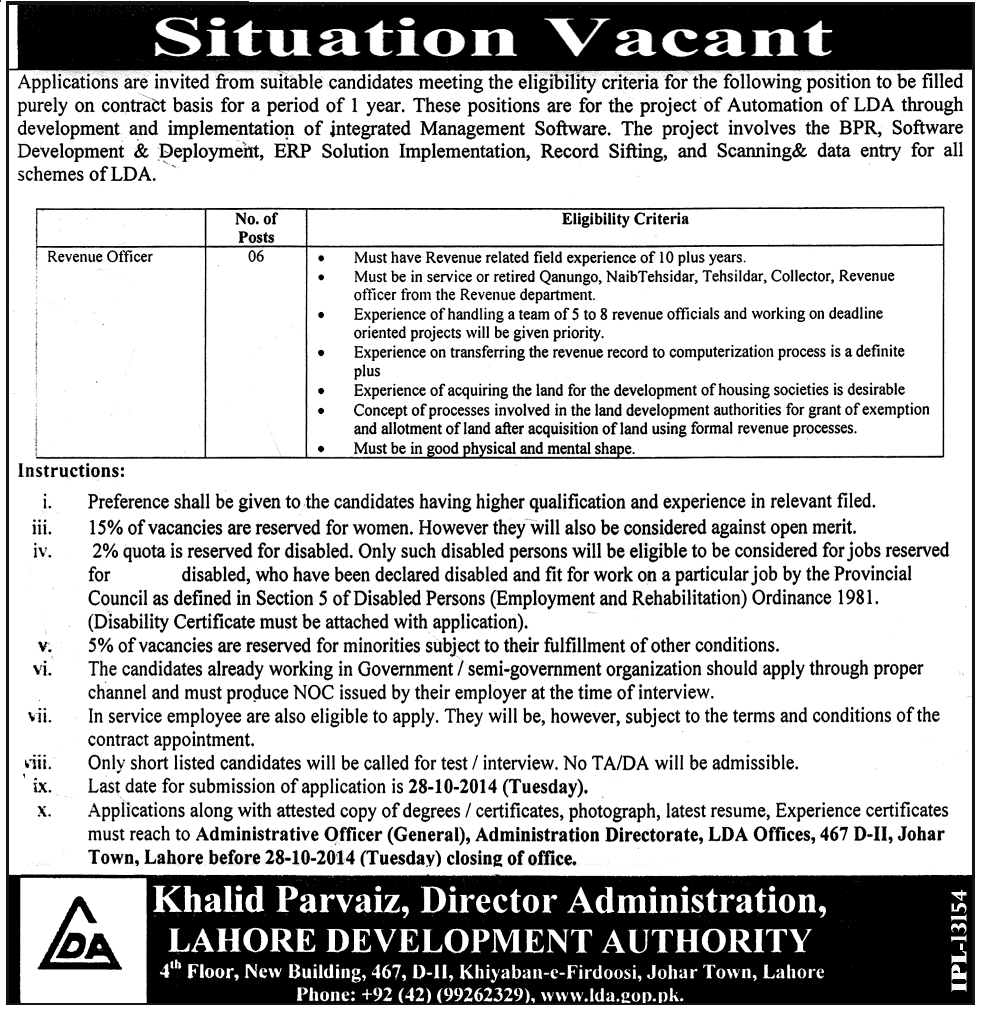 Posts Available and Their Eligibility Criteria
System analyst
posts available: 1
Software engineer
posts available: 1
Data analyst
posts available: 1
Network / system engineer
posts available: 1
DEO/ Network Technician
posts available: 10
Revenue officer
posts available: 6
Terms and Conditions and Eligibility Criteria
Age limit for posts from 1 to 2 is given as up to 35 years and for the posts from 3 to 6 up to 30 years.
Candidates who are having higher qualification and experience in relevant field will get preference.
For women 15% of vacancies are reserved. Besides this they will also be considered against open merit.
For the disabled persons 2% quota is reserved.
For minorities who will stand eligible according to the conditions 5% vacancies are reserved.
Candidates who already government servant can also apply but these candidates must produce NOC issued at the time of interview.
For the test and interview only short listed candidates will be called.
No TA/DA will be accepted.
Application form
Application forms are available at the office of administrative officer. Application forms and the copy of degrees/ certificates, photographs, latest resume, experience certificates must be submitted to Administrative Officer (General), Administration Directorate, LDA Offices, 467 D-11, Johar Town, Lahore. In case of any negligence in filling up the forms or the required documents administration will not be responsible for any negligence.
Last date for the submission of applications
Officials have a given a date before which all the application must be submitted. In case of late submission of application forms candidate itself will be responsible. The last date for the submission of application forms is given by the officials as 28th October 2014 (Tuesday)