There are job opportunities for Engineers by the progressive public sector organisation for and excellent training opportunity in one year Post Graduate Training Programs in Nuclear Technology at Karachi Institute of Power Engineering (Kinpoe) and Center of Nuclear Training ( Chascent), Mianwali.  The programs will include three semester of class room teaching, lab work and on the job training at all. You must pass these three semesters for the successful completion of this training. After the completion of training graduates will be able to set up their selves in the organisation. All the admission in PGTP will be granted on the merit base and the merit will be calculated on the behalf of written test and interview The course commencement is going on April, 2015, from here you can get Kinpoe and Chascent Jobs 2014 Application Form, Test Date, Result and all the information relevant to this job is provided here. All the eligibility criteria for this job is given in this post for your ease. As we know that CHASCENT was established in the year of 1996 and it is producing trained human resources for Chashma Nuclear Power Plant also for other organisation of Pakistan Atomic Energy Commission. There are 429 Technicians have been trained so far in the Nuclear Power Plant Technology and it is located adjacent to Chasma Nuclear Power Plant at Chashma 32 km for Mianwali. Now the Kinpoe and Chascent Jobs 2014 are offered and eligibility criteria is given under here:
Kinpoe and Chascent Jobs 2014 Eligibility:
All the candidates having Pakistani Nationality fulfilling the eligibility criteria can apply for these jobs
Candidate having a degree must be recognized by Pakistan Engineering Council.
Candidates having BE/B.Sc engineering degree in the disciplines including Chemical Eng, Electrical Engg, Electronics Engg, Mechanical Engineering, Civil Engg and Computer Engineering with first class academic career (Minimum of 60% marks. While one 2nd Division is allowed except in the final degree and in case of semester system, minimum CGPA 2.5 out of 4.0 iin the final degree is required at all.
Last Date to Submit Form:

17 October, 2014
Admission Test Date :

7 December, 2014 
Kinpoe and Chascent Jobs 2014 Application Form, Test Date, Result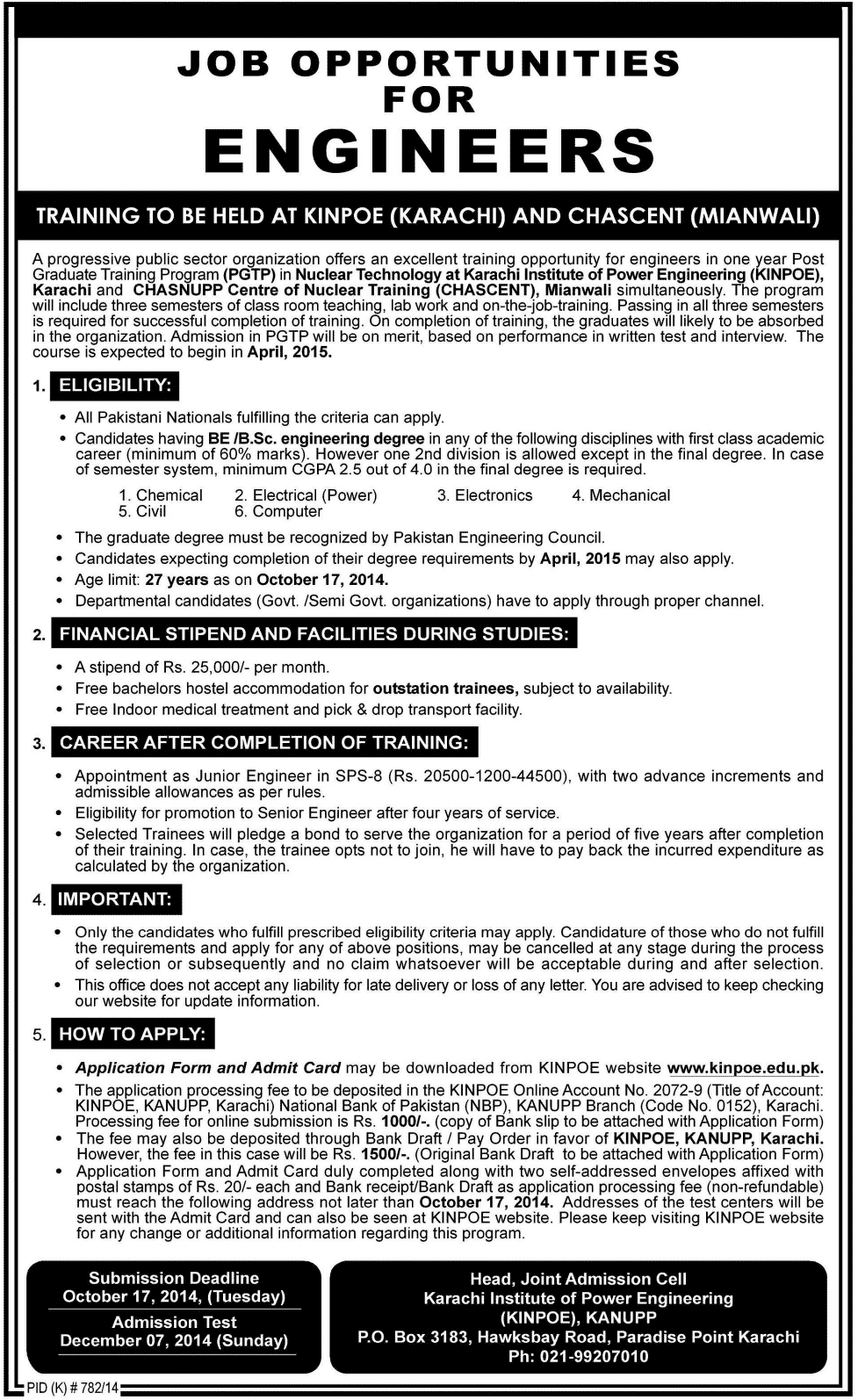 How to Apply:
Candidate want to apply for these jobs can easily get application form through the web link given above and also from the KINPOE official website www.kinpoe.edu.pk. After getting the application form you must have to deposit the application processing fee in the Kinpoe Online Account No. 2072-9 ( Title of Account: Processing fee for online submission in Rs. 1000/ and the copy of Bank slip is to be attached with application form.
Yo can also deposit the fee through bank draft in favor of Kinpoe, Kanupp, Karachi and the fee in this case will be Rs. 1500/- (Original Bank Draft to be attached with the application form).
After doing all the candidates must have to submit application form duly completed along with the two self addressed envelops affixed with postal stamps of Rs. 20/ each Bank receipt/Bank Draft as application processing fee must reach to the address given in the add before 17 October, 2014.