Through this page you can get How to Join Pak Army As Doctor And Dentist so read all given information that is collected by deep research. Last few days ago on 15th of January 2015 Pakistan army captain and major short service regular commission SSRC is offered by Pak Army through Pakistani newspaper advertisement. on beginning stage we want to mention if you want this short service regular commission than you have to need get information about eligibility criteria, post names, training period, required documents, service term and condition and last date of application submission. Pakistan army is considered as a world top army and according to constitution of Pakistan, Pak Army is providing protection to Pakistan and according to our information Pak army have 550,000 active troops and 500,000 reserves troops and through this troops Pak army want to perfume their objective in the light of Quran and these objective is based on iman, Taqwa, Juhad fi Sabillilah. Now in below side get information about how to Join Pak Army as Doctor and Dentist.
How to Join Pak Army As Doctor And Dentist

Pakistan Army short service regular commission post name:
General Duty Medical Officer GDMOs as Captains
Pakistan Temporary Commission PTC officers male as Captain
Classified Specialists as Major
Trainings Period:
According to SSPC 22 week's basic military training will be given by Military academy in Abbottabad and Rawalpindi and PAT officer can get 12 weeks basic military training in Abbottabad.
Required documents for Army Doctor and Dentist through short service commission:
Click her for online registration:
Attach original all education certificates
Attach all educational records with details marks sheets
Two copy of PMDC attested registration certificate
Two attested coppice of you medical house job
Attach attested domicile copies
Remember your photos must be attested In front and back side
Send postal order RS: 100:00
These all document will be submitted in Director General Personnel Administration DGPA GHQ Rawalpindi
How to Join Pak Army as Doctor and Dentist through short service Army commission highlights:
Last date of registration is 30th of January 2015
Preliminary tests dates is 3rd of January 2015, 4th of January 2015 and 6th of January 2015
Written test for GDMOs male female will be conducted on 3rd of February
PTC Officer written test will be conducted on 4th of February 2015
Specialists and personality tests will be conducted on 6th of February 2015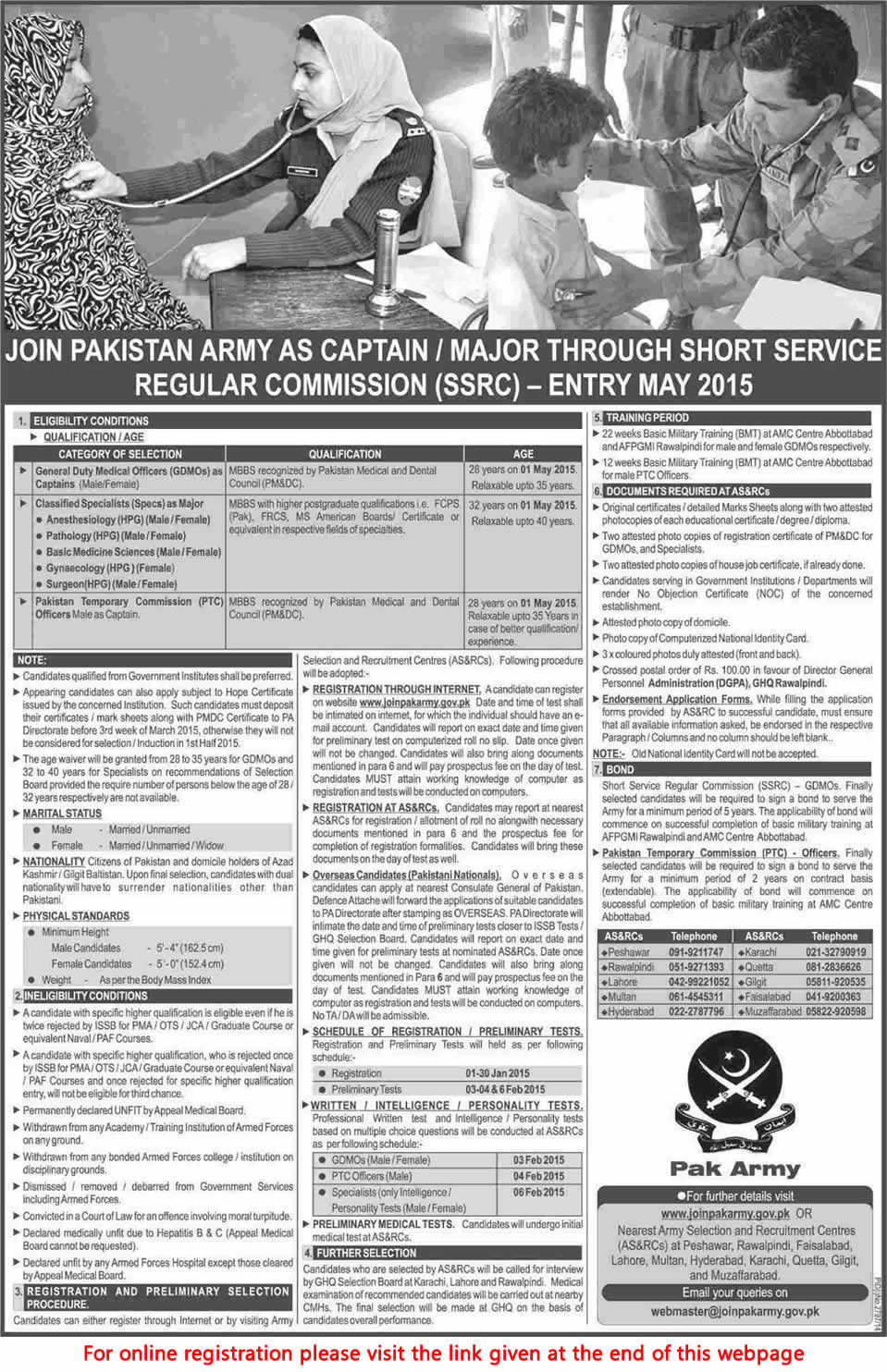 After How to Join Pak Army as Doctor and Dentist details if you want army job in different sectors than visit this website main home page.