First women bank limited FWBL jobs 2014. FWBL is a unique commercial bank working only for the women of Pakistan the ambition of First Women Bank Limited is to be the leading bank for the women of Pakistan. First Women Bank Limited is giving a great opportunity to the women's of Pakistan and trading them also for the economic growth of the economy and self-reliance in urban and rural areas of the Pakistan.
First Women Bank Ltd. is proud to be the first bank for women in the region. FWBL both a commercial bank and DFI designed, managed and run by women, for women, was set up in 1989 by the Islamic world's first woman Prime Minister Benazir Bhutto (Shaheed) who envisioned a bank that would meet the special needs of women entrepreneurs. Currently the bank is headed by Ms. Tahira Raza who took over as President on April 23, 2014.
First Women Bank Limited is looking for the well-educated and experienced professionals for the different type of Jobs in First Women Bank Limited. It is a precious opportunity for all the Pakistani women's who are able enough to get this job they must cash this opportunity. Time never come back once gone so do not miss this great opportunity and join First Women Bank Limited. It is not only a job but a promising career as well. It offers a range of work experiences that you can put to use in building a successful career and it would be beneficial for the economic growth also. There are following positions under here:
First Women Bank Limited FWBL Jobs 2014
Positions:
Product development Officer- Karachi
Credit Officer- Karachi
Financial Analyst- Karachi
IS Auditor, Risk and Forensic Auditor, Financial Auditor- Karachi
Branch Manager- Raheem Yaar Khan Branch
Executive Secretary- Karachi
IT Support Coordinator- Karachi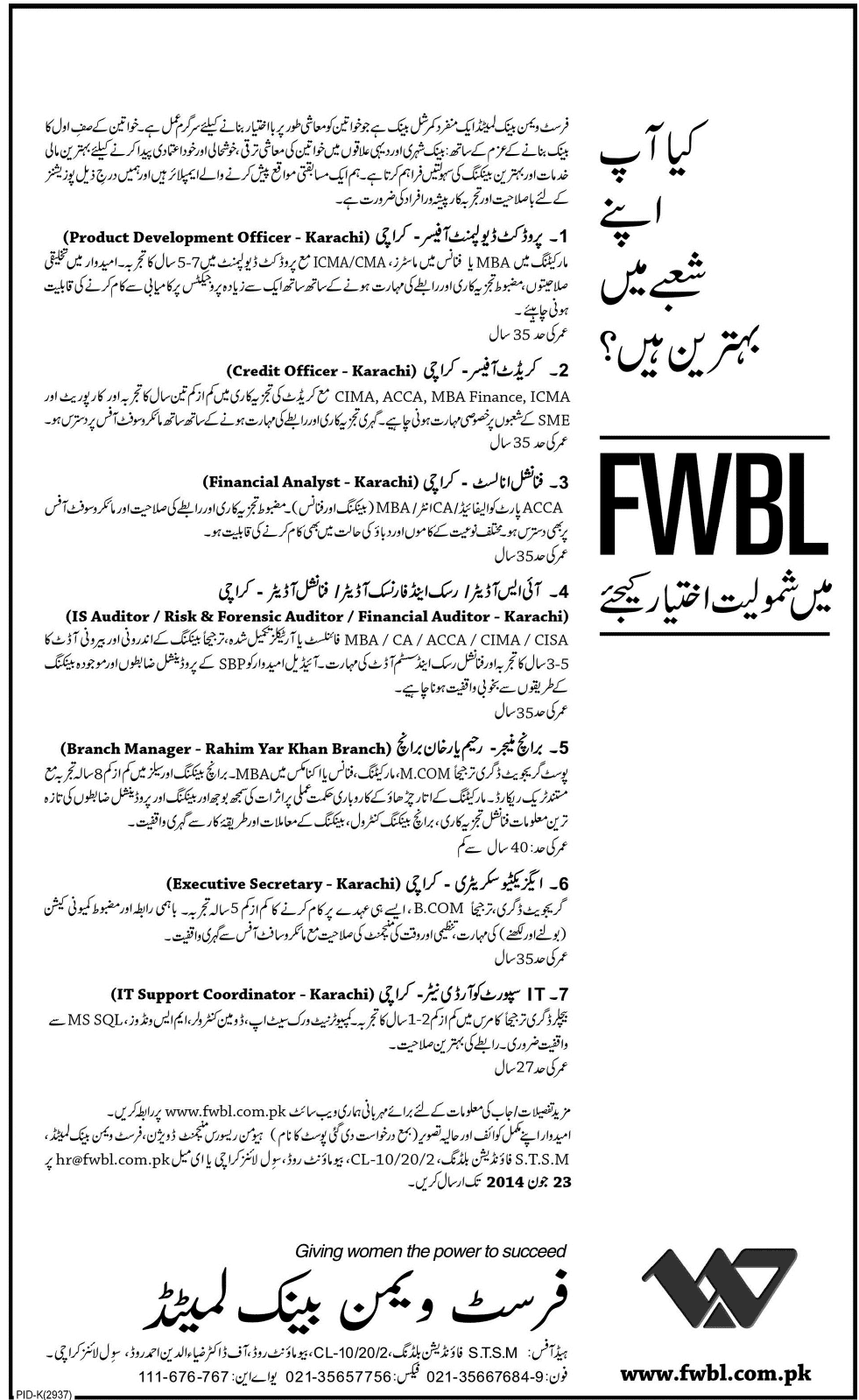 Further Details:
For more information visit the official site of First Women Bank Limited www.fwbl.com.pk . Applicants must send their updated resume (Please mention post applied for) and also their recent photographs to the Human Recourses Management Division,
Address:
First Women Bank Limited, S.T.S.M Foundation Building, CL- 10|20|2, Beaumont Road, Civil Lines, Karachi . Email to hr@fwbl.com.pk.
Registration Date:
Till June 23, 2014