You can get Student Loan in Pakistan for study abroad. Student loan is one of the salient features of the modern banking system in Pakistan where the students are being given an interest free loan for the purpose of acquiring their education and meeting their educational expenses. In this regard numerous banks have stood and have realized their responsibility in assisting such students who are competent and still unable to make their educational expense, so to avoid the wastage of such assets of the state the banks are offering the student loan so that no financial hurdle should disturb their career. Amongst the various banks few of those who are quiet popular and famous in providing interest free student loan includes the following;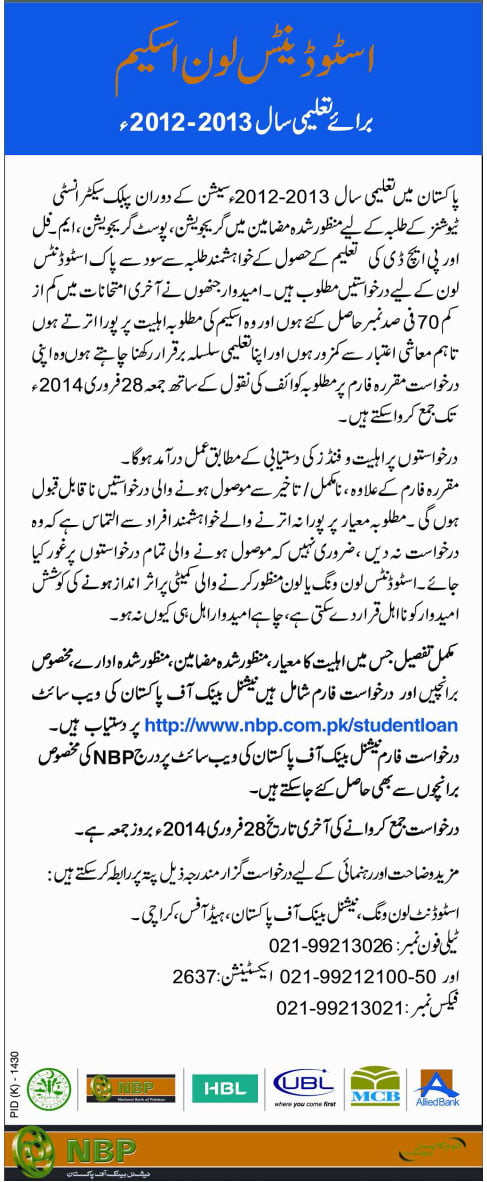 National bank of Pakistan (NBP).
United Bank Limited (UBL).
Muslim Commercial Bank (MCB).
Allied Bank Limited (ABL).
Habib Bank Limited (HBL).
Meezan Bank Limited.
Al-Baraka Bank
Bank Islami Pakistan
Dubai Islamic Bank
Dawood Islamic Bank Limited
Bank Alfalah
Standard Chartered Bank.
The students are provided with the loans after their enrollment in any of the categories of education which might include the disciplines of Technical, Scientific, medical or even professional education in Pakistan and at the same time they can apply for the loan at any level or stage of their educational career which might include graduation, post-graduation or PhD level.
It is to be noted that the student loan which is being offered by the banks of Pakistan will cover the educational fee, boarding charges and textbook expenses, any expense made other than that will be charged to the student. When the students are being provided with the student loan will be abiding to repay it to the respective bank in a maximum of 10 years after the date of disbursement of the loan. The installments will be initiated from the completion of one year after the respective education for which the loan was being taken. The other condition is after the completion of one year of obtaining the job, any of the situations can be implemented on the basis of which comes first.
According to the policy of the banks they have created a list of 71 approved colleges and the universities of Pakistan; comprising of Sindh, Baluchistan, Islamabad, Azad Kashmir and Northern Areas, as the student will be eligible to apply for the student loan only if the student will be able to secure the admission in any one of the 71 approved educational institutions. The following is the link which will provide you with the names of these 71 approved educational institutions of Pakistan.