Scope of Distance Education specifically in the paradigm of Pakistan Education System. Education is the basic need and considered as one of the most crucial and significant needs of human beings today, but at the same time people are getting more and more busy and reserved in their practices and activities that they might get the spare time for their normal education and are unable to attend the educational institution. For this purpose many people have left education and are still busy in their activity.
For these people the most proper solution to this problem is to acquire Distance Education. Distance education is a phenomenon or the activity in which the student acquires education at its own willing time, place and a group of educators. No eye to eye contact required by the teacher and even there is no need of attending the school, college or university, the basic need for this facility is technology which includes the internet connection.
Scope of Distance Education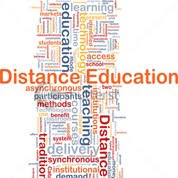 In Pakistan still the distance education is not that much prominent and highly followed as compared to the foreign countries which have promoted this type of education over the normal educational system. In Pakistan the initiatives being taken by many institutions and the government which have resulted in formation of open universities and online degree and educational programs. There is surely a need to promote this very creative and effective means of delivering education at your doorstep.
The universities which have made them popular in this regard are getting very positive results from the students and well as the professionals because the professional who are working in their respective organizations and at the same time also wants to enhance or improve their educational backgrounds highly appreciates this very educational system in Pakistan and even in the abroad also.
The universities which are very much popular in this concern includes Allama Iqbal open university in the governmental sector and Virtual University in the public sector which established themselves and have made themselves very much strong and stable in this field. The scope of distance education is very much bright and glowing in Pakistan but there is a significant need to make it more possible, productive and reliable so that people and students could be motivated to adopt this educational system. Although it should not give preference and priority over the normal education system but it should make strong enough so that the one who is in need of this should facilitate properly.