Pakistan Literacy Rate projected to reach 60 Percent by 2015.Although Pakistan has been successful in making very attractive and positive educational policy for the state but due to several laps and loop holes in the management as well as in the negative intentions of the corrupt politicians of the state which have not implicated and are unable to give practical demonstrations for the country. This negative approach has adversely affected the literacy rate of the country. According the consensus of 2011 Pakistan is currently ranking as 113th amongst the 120 countries of the world as far as the literacy rate being considered which a big shame is for the representatives of the country. The overall literacy rate of the country is 56% which is very low but as far as the intuitions of the analyst it expected to grow to almost 61% till 2015.
Pakistan Literacy Rate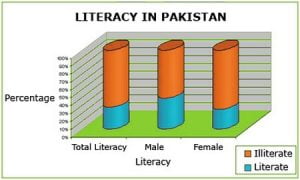 One of the main reasons behind this drawback and these shameful stats for the country lays the wrong intentional government and administration. According to the financial analysts the government at the present is spending just 2.3% of their total Gross National Product GNP and just 9.9% of the total budget allocation being reserved for educational purposes in Pakistan which is very low as compared to our neighbors which includes India which spends almost 4.5% of their total GNP and about 12.7% of their total budget on educational practices and at the same time Bangladesh spends just 2.1% of their GNP but 14.1% of their total financial budget.
If we make an analysis of the literacy rate per the age group of the people the stats are more shocking and stranger. The people who are ranging in the age group of 55-64 years is just 30% which justified because the old traditional people were not that much focused towards the education as the modern people are. The people among the age group of 45-54 years are just nearly 40% which is very low as compared to the other countries. These people are the one which are sitting on the higher post and designations and are not properly literate.
Now let us have the overview of the people who fall the age bracket of 25-34 years; the literacy rate in this age following is as low as 50% which defines that half of the youth of the country is still uneducated and illiterate. The literacy rate per the consensus of the records the people under the age group of 15-24 is just about 60% which is pretty much improved and better as compared as the literacy rate of other age groups.