Motivation and students always goes with one an other so it is necessary to know that How to Motivate University Students. The students should be kept motivated so that their interest in the education should be maintained, and this becomes more important and crucial when the student is in his University life. The students of university should be maintained and their focus should be kept intact so that they should not divert their concentration and efforts and all there strength should be made intact and focused on one point and that is to acquire the real and wanted output from the student. Moreover the motivations are your own observations and imagination about how you take a thing your mind set to resolve and to intake it in your own life relating to your career either this career is your educational career or it is your professional career. Once you have set up your mind to see your self at a specified place and you perform your hard work on it to achieve your imaginations then you are on the right way to get their goal and ambition in life. So keep on reading this post to get some tips and ways about how to motivate University students.
How To Motivate University Students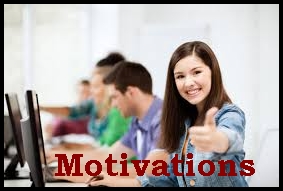 The student should be kept in motivated through various key points and strategies.
The students in the university should be given the charm and greed of medals and certificates for the top position holders so that all the students should be kept motivated. The student, which are successful, and leading scorer should be appreciated, and appreciation should be done through certificates and medals.
The class and administration should be keen to nominate the student of the week, and this should be on the basis of good performance and brightness. This charm should be nominated on the basis of good performance which the student has shown in that particular week or month, this will encourage other people and student to work hard and to look for that prize.
There should be no gender discrimination in the class and no gender either they are male or female should be given the preference over others on the basis of gender, as this will demotivate and depress the to other students. The preference should be on the basis of performance and attitude only.
When the students are in the university phase they are just about to enter in to their practical life and in which they will be doing their jobs or businesses. It its very important that their should be job placement cells in the universities which should help and advise the students to opt the right choice. The cell should make this possible that those students who are bright, capable and potential candidates so they should get their job trough the university job placement cell. This will motivate the entire class to work hard and to get to the top so that they can be successful in getting job easily through the help of the job placement cell.
 It is very much important and significant to keep them motivated and focused so that the students should be successful and sharp in one of the most important and crucial phase of their life.