The day School or Boarding Schools are much contributors of Knowledge among the kids existing in that society.Parents nowadays are keener to send their kids to the boarding schools instead of the normal day schools. There are so many reasons which have contributed to such mind shift, as the parents consider that the boarding schools are more beneficial and are more advantageous. Students might contradict to this thinking but this is the fact which cannot be denied that there are so many advantages and positive points which have influenced the parents to send their children to the boarding schools, amongst which dew of the advantage are being enlisted below: The very basic positive point of the boarding school is that they have the license and tradition of quality education and standards which are being implemented with certainty and assuredly.
Advantages of Boarding Schools over Day Schools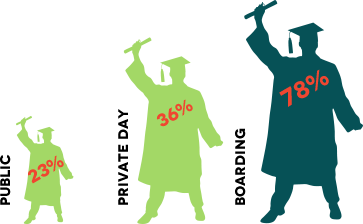 Students of the boarding schools are being taught and are being trained more professionally and ethically than any other normal day schools and that is one major reason that the students of boarding schools have their own identity and have are mannered properly which is one of the very important constituent of the development of the student.
In boarding schools the students are being groomed properly, and this is being done by treating everybody equally and giving equal rights and equal weight age to all the students which eliminates and destroys the curse of discrimination amongst the youth of that particular country. Such type of grooming and growth is not being observed and witnessed in the normal day schools.
In boarding schools students are not being admitted for a day or few hours but they are being admitted for long tenures which might be of six months or even of a year or so. This is one major reason which contributes in making the child independent at very young age because in boarding schools the students are being prescribed to do all their task and work by their own, this also includes the task which they might never do on their own in their normal day school life which includes polishing the shoes, pressing and washing the clothes and even cleaning the room.
In boarding schools the personality of the individual is being polished and is being crafted in such a manner that everyone appreciates it once the individual will enter the market of this competitive world. In this personality grooming includes the communication skills, presentation, dressing taste and even eating manners. This is what normal day schooling never offers and even never take such grooming and development of the child under consideration, which makes the boarding school far more superior and far more beneficial for the students.