Your CV or resume is your very first expression towards your job and there is very general and famous quote is famous which is "first expression is the last expression". So if you want to leave a good expression on the recruiter then must prepare your CV with 10 resume writing tips in Urdu. Whenever you are going to apply for a job you have to prepare your CV first of all in which you will write your address, contact information, biography and then you write you're objective, academic records, computer and other professional skills and experiences and in the last you write reference will be furnished on demand. So in all these topics the thing which one is the most important is your presentation about to express and to present your personality in a single page of paper. Even though that is any type of job or any rank of job is laying vacant if your resume attracts the recruiter it will maximize your chance to call for interview. So just keep on reading this post to get 10 resume writing tips in Urdu that will increase your chance to avail a job.
10 Tips for Writing A CV
First of all the headings of each topic of your CV should be properly aligned
No chance for even a single mistake will be compromise
Your objective in the top of your CV should be written in your own worlds that you can explain and which is elaborating your personality
Along with your profile and personal details if you your picture alongside it will increase the presentation and expression
You academic or educational record should be mentioned with years in front of them
Write your experience and last job leaving reasons and salary
CV not more than a single page is more easier to read for a recruiter
Submit your CV in a proper transparent envelop
Now you can click on the following image to get 10 resume writing tips in Urdu.
10 Resume Writing Tips In Urdu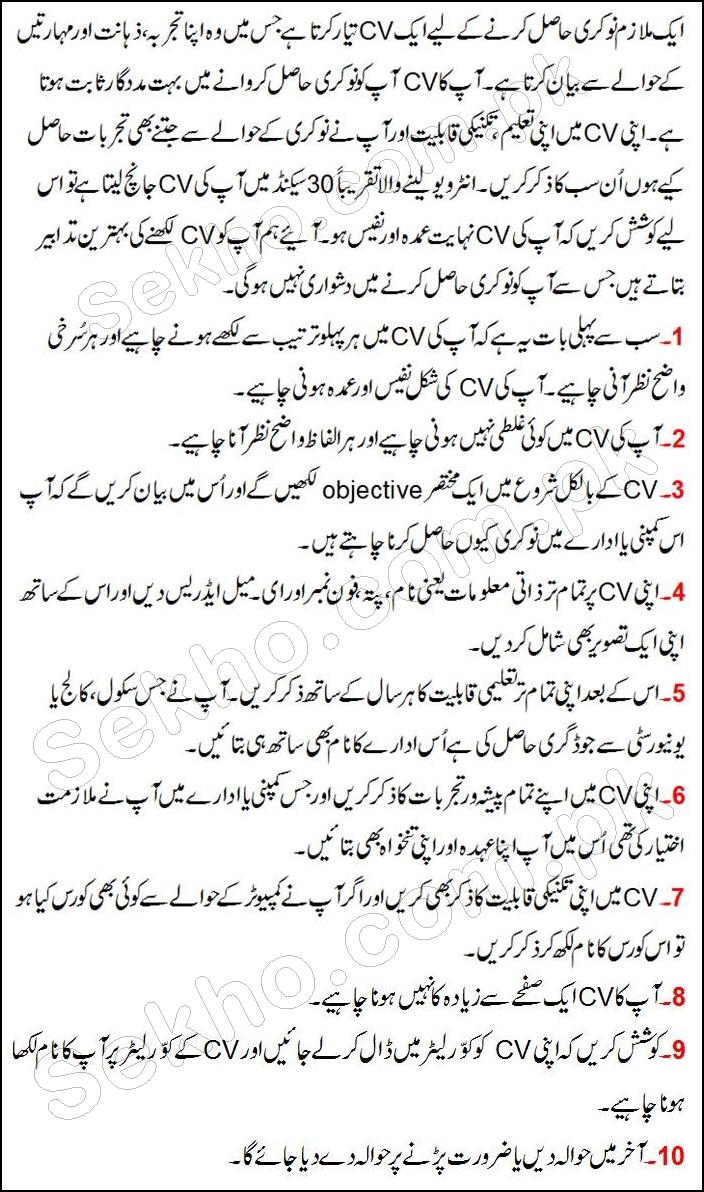 Hope all these tips proves to be very helpful for you to write a professional way of curriculum vitae (CV). If your resume once attract the attention of recruiter your chances for calling for interview will be increased. In case you have any suggestion relating to writing a CV with your own experience you can share your data with me via comment section below and that I will add in my 10 resume writing tips in Urdu.