Former President of Aga Khan University, Shams Qasim Lakha was appointed Higher Education Commission (HEC) Chairman On Sunday,Express News Reported source said on Sunday.Dr. SHAMSH KASSIM LAKHA is educated at the South Bank and Westminster Universities in the United Kingdom and the University of Minnesota USA. From October 1979 Til April 2006 (26 years 7 months) he served as President of Aga Khan University's President. From 2000 till now he is also serving to Pakistan Centre for Philanthropy. From May 2006 till now he is also serving as President of SKL Associates.
Shamsh Kassim Lakha Appointed HEC Chairman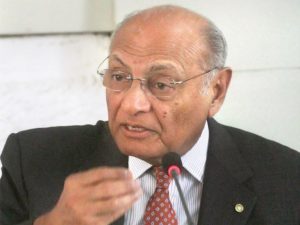 From 2006 till now he is also a Member(Honorary Position) of the Higher Education Commission of Pakistan. From April 2007 till now he is Board Member of International Baccalaureate Organization. After achieving all these honored places over here in Pakistan. Now He becomes Higher Education Commission's Chairman.Lakha has served extensively in the education sector, including the role of caretaker minister for science and technology.
Earlier this week, Prime Minister Nawaz Sharif had turned down a request for extending the tenure of former HEC Chairman Javed Laghari by another four years. The request had been sent by the Ministry of Education, Training and Standards in Higher Education.
Note: Appointed as chairman in August 2009, Laghari's term ended on August 26, 2013 this week
Secretary for Ministry of Science and Technology Akhlaq Ahmad Tarar held the acting charge as HEC's chief till Lakha's appointment on premier's orders.
According to Higher Education Commission Ordinance, the prime minister is the controlling authority of the Higher Education Commission and the shortlisted names are to be forwarded to him for the final say.
Some Said "good decision, we expect Mr. Shams to make HEC as he has made AKU a great place of learning"
Some Said "Good Bye, Mr. Leghari"
Some Said"Wow. Great choice. Finally someone who has the intellect and the ability to take the HEC to the standards it was supposed to deliver"
So Now its your Turn about this decision what you would Like to say about New Appointment of HEC Chairman. You can gives your words through Comment Section over here at this page.