Today chief minister of Punjab mian shahbaz sharif Met Mr. Muhammad Mohsin Ali,how topped the Punjab University in BA/BSC exams 2012.CM presented him a cheque of 1 million rupees to enable him help himself and his siblings continue their studies. "This is how Nations are built, this is the true dignity of labour" exclaimed the highly moved CM, listening from the BA topper how he had to struggle to achieve the exemplary success.
CM also awarded him a house at Aashiyana Housing Scheme, besides instructing the concerned officials to arrange for his higher studies on Punjab government's sponsorship.
Chief Minister Awards 1 Million & A House To BA Exam Topper Mr.Mohsin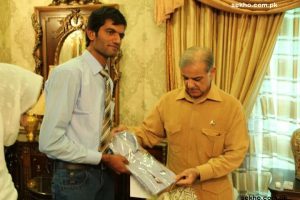 Every year thousands of students apply for BA/BSc examination but some student,who looks like a mohsin ali.Mohsin ali used to live in a room at a "tandoor" that he shared with more than a dozen labourers. While his fellows slept or watched TV, this guy used to study. During the hours of load shedding, which earned him upto Rs.400 a day for bearing his study's expenses.
The New Prime Minister of pakistan Raja Pervaiz Ashraf also announced an award of Rs1 million for Muhammad Mohsin Ali.Mohsin Ali while talking to media at Position holders' awarding ceremony at Al Razi Hall, Under graduate Study Centre on Saturday said that he is son of a laborer and helps his father at 'tandoor' to meet up his expenditures.