EVS (Educational voucher scheme) is in its phase 13 and registration for it is started. Educational foundation scheme is a unique scheme from Punjab educational foundation government of Punjab. Education voucher scheme was launched in 2006 for the benefit those children that belong to the backward areas and are less affluent, for the benefit of those children who cannot get education due to the financial and social crises. This scheme got a really good response from society and now this scheme is in its phase 13. Main ambitions of EVS are to provide low cost education, superior targeting for better quality outcomes and practical application. With this scheme PEF provides a voucher of Rs 450/- for each student to the selected schools however after getting into the partnership the institute does not take any kind of dues from the children. Education voucher scheme have given a list of areas from which willing schools and NGOs/ profit or nonprofit companies can apply for it. Here we are providing all the information about the scheme, terms and conditions along with the application forms. The candidates who are willing to apply can get this information very easily.
PEF Education Voucher Scheme EVS Phase 13 Application Form Download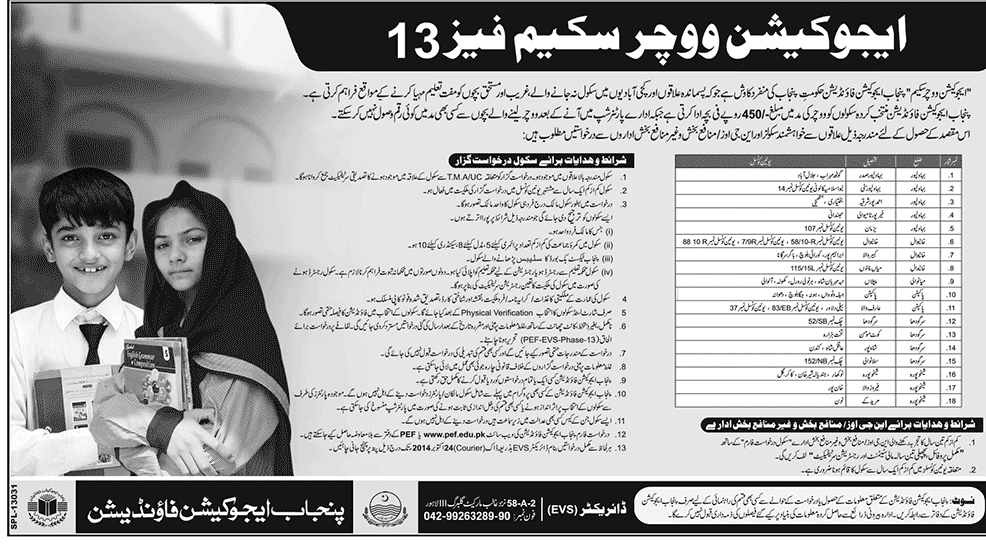 List of areas for EVS
District Bahawalpur: Bahawalpur sadar, Bahawalpur city, ahmadpur sharfia, bazman and kheir pur tamewali.
District Khanewal: khanewal, kabirwala and mianchanu.
District Pakpatan: pakpatan and arifwala.
District Sargodha: Sargodha. Kot-momin, shahpur and salanwali.
District Sheikhupura: ferozwala and pureedke.
Terms and conditions for school candidates
Schools must be situated in the listed above areas. School must submit the certificate of presence in the area from the nearest UC/T.M.A
The person listed in the application will be considered the only owner of the school.
Schools will get preference if they fulfill the following criteria.
Whose owner is just one person.
The class rooms must be 5 for primary, 8 for middle and 10 for secondary in the school.
The schools giving the syllabus of Punjab text book board.
School must be registered to the educational board or applicant to register. In both conditions prove should be provided.
The information given with the form will be considered as final information.
Punjab educational foundation has a right to disqualify anyone or all of the candidates.
A complete application from every aspect will be send to the director of EVS through post (Courier) at the address 58-A-2 near Ghalib market Gulberg Lahore.
EVS application forms
EVS application forms: click here to download
EVS evening classes application forms for organizations: click here to download
EVS evening classes application form for schools: click here to downlad
Last date for the submission of applications: 24 October, 2014.