PEEF (Punjab Educational Endowment Fund) under the supervision of Punjab Government is giving scholar ships for the intermediate students of the session of 2015. Pakistan government has raised 80 thousand scholarships of total cost Rs. 4.2 Arab /- for Punjab and other provinces. Government of Punjab (PMLN) has always encouraged the students of Punjab by giving different opportunities as well as facilities. Shahbaz Sharif (president of Punjab) launched many schemes for students in Punjab, giving an example: laptop scheme in which laptops was given to the students. PEEF is registered under the section 42 of the Companies Ordinance, 1984. In the initial stage PEEF was established with an initiative of just Rs. 2 Billion which is now raised to Rs. 9 billion. Recently the govt. of Punjab has allocated a fund of another Rs. 2 billion. Punjab Educational Endowment Fund (PEEF) is struggling for the talented youth of Punjab, Pakistan, ultimately leading to the economical development and a prosperous Pakistan. PEEF is also having an ambition of building an educated society by supporting the students in financial crises. Under the view of its ambition PEEF is offering scholarships for intermediate students. Here you are given the information about application form along with the list of districts of Punjab in scholarships are being distributed as there are 11 districts of Punjab in which 17000 more scholarships of 40 crore rupees will be distributed.
PEEF Punjab Government Intermediate Scholarships 2015 Application Form Download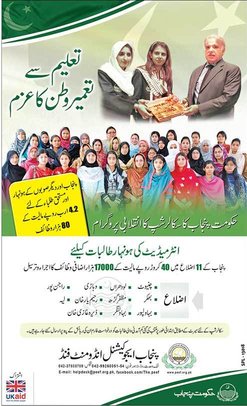 Scholarships
From past few years Pakistan government is having a great supervision on the students and their problem which they face during studies. The main problem which they noticed is financial crises which do not let the students to continue their studies in a good manner, keeping in view of this Pakistan government is facilitating the students with bunch of scholarships, however  scholarships are given only to brilliant students that's why to get a scholarship one must fight for it. There have seen a great competition between students to get on the merit of scholarships. scholarships are given after the complete background study of students to know if the student is really needy of the scholarship. This trend of scholarships has always supported and encouraged students to fight for the better future as there is always a way ahead.
List of districts:
Cheniot.
Bhakar.
Bahawalpur.
Lodharan
Muzafargarh.
Bahawalnagar.
Wehari.
Raheem yar khan.
Dera ghazi khan.
Rajanpur.
Leyah.
Application forms
The application forms for the scholarships according to the merit, selected students with low income are being posted to their residential addresses.