Application forms are available here for Community initiative program 2015 of the United States educational foundation. This program is proposed for non degree study in United States. This program is launched for Pakistani professionals who a have done 2 years of bachelors and have less than 3 years of work experience. This program is only for Pakistani citizens. The selected candidates will be sent to United States for one year as all the expenditures i.e. Round trip travel, books tuition, housing and health expenditures, regarding to this program will be fully funded by administration. The main purpose of this program is to enhance the knowledge and cultural understanding of Pakistani and United States students. in this program students form United States are also sent to Pakistan for one year of non degree study. This is a national program that means all Pakistanis are invited to apply. However women, disable candidates, individuals from FATA, Baluchistan, KPK, AJ & K, Gilgit/Baltistan, Northern Sindh and southern Punjab are encouraged. Government of Pakistan is supporting this program for better understanding between the people of Pakistan and United States. Here we are providing you detailed description about this program which includes eligibility criteria, registration procedure and terms and conditions. Application forms are also uploaded here for your convenience. The candidates who are willing to apply are required to read this post thoroughly before the applying. For more details keep visiting our website after short intervals.
2015 Community College Initiative Program Competition Application Form US Study
Fields to study in United States
Applied engineering
Business management and administration
Early childhood education
Media
Public safety (rescue/ Disaster management services)
Tourism and hospitality management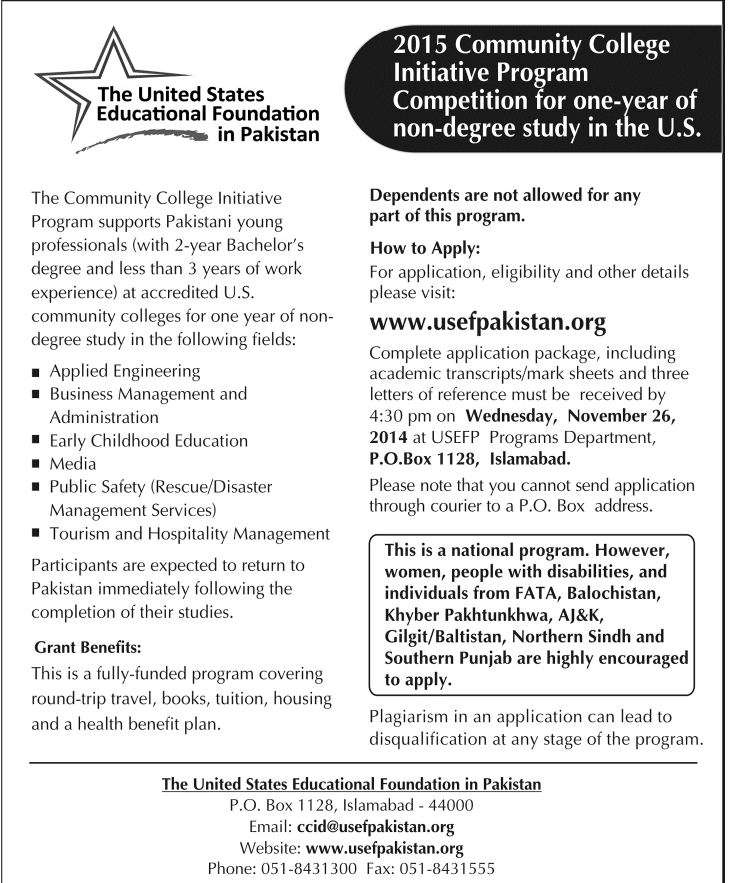 Registration forms and registration procedure
Application forms are available here on our website. The candidates who are willing to apply are required to download this form our website.  In the application forms different information are required from the candidates. It is recommended that candidates fill up this form with true and authentic information. In case of wrong information provided the application forms will be rejected and candidate will be selected. After filling up the application forms the candidates are required to attach academic transcripts/ mark sheets and three letter of reference with the application form and then these set of documents must be sent at USEFP Programs department, P.O. Box 1128, Islamabad. It is to notify that the application forms must be sent before the last date to apply. According to the officials Wednesday, November 26, 2014 is last date to apply. The applications received after this date will not be entertained. Below we are providing you the application forms. The candidates can easily download the application forms from here. Reference letters are also given here for your convenience.  For further more details stay tuned!
Click Here for application forms
Click Here for Reference letters