About 9391 candidates now waiting for University of Health Sciences(UHS) MDCAT entry test result 2017. This year Many appeared for medical and dental colleges' entrance test 2017 which was re-conducted by University of Health Sciences (UHS) Lahore simultaneously at 12 cities of the Punjab with a rigid security here on Sunday 20th October 2017. Now just after giving the exams and after watching UHS entry test answer key 2017 now Students still waiting for their UHS MDCAT result 2017 which will be announced after two days. Previously the test was conducted on 20th August but due to some inner issues the Government of Punjab and Ministry of Education cancel that test and retake this test on 29th October, 2017. So if you have appear in this test and looking forwards towards the test result then here you are on the right side for checking the UHS MDCAT entry test result 2017.
UHS MDCAT Entry Test Result 2017
The candidates who appeared in this entry test 2017 would compete for 3405 MBBS and 216 BDS seats in 17 public sector medical and 03 dental colleges respectively.
Besides, there are 3000 MBBS seats available in 28 private sector medical colleges and 700 BDS seats in 12 private dental colleges of the Punjab Province.
MDCAT test 2017 was started at 09: 00 AM went peacefully at 20 centers set up in
Lahore
Sargodha
Sahiwal
Gujrat
Gujranwala
Faisalabad
Bahawalpur
Multan
Muzaffargarh
Rahim Yar Khan
Rawalpindi
Hassan Abdal
All Entry Test Facilitation centres were locked at 08:15 hrs sharp and no one is allow to enter in examination Center after that . A large number of police personnel as well as some other Security persons were there at centers to keep in eye on any illegal means during Entry Test time of the examination. Bomb disposal squads and fire brigades were also arranged at centers. Such kind of arrangements were placed successfully over there during Test Time. Moreover close circuit TV (CCTV) cameras, mobile phone jammers and walk through gates were installed at all centers. There were proper arrangements for the disabled students, parking and waiting area facilities for the parents of the candidates who comes there to participate in UHS MDCAT entry test 2017. Backup power generators were also provided to all centers so that Electricity short fall should be faced with such proper arrangements.
The candidates and parents expressed their satisfaction on the arrangement made by the University of Health Sciences and the provincial government.  While Talking to Media Candidates told that the supervisory staff was very considerate. About the exam, he said that all questions were from textbooks and much easy one.
In Lahore, there were Four centers;
1: Board of Intermediate and Secondary Education Examination Halls at the Lawrence Road.
2: Second center was established at Punjab University Examination Halls at the Wahdat Road.
3: Government Comprehensive Girls High School Wahdat Road was set up as the third center.
4: Pilot High School Wahdat Road Lahore was set up as the Fourth Center.
UHS Lahore Vice Chancellor Prof. I.A. Naveed said that highly scientific and sophisticated method had been adopted to maintain the secrecy of the examination papers and whole process of the test. He made it clear once again that admission to medical colleges would be purely on merit.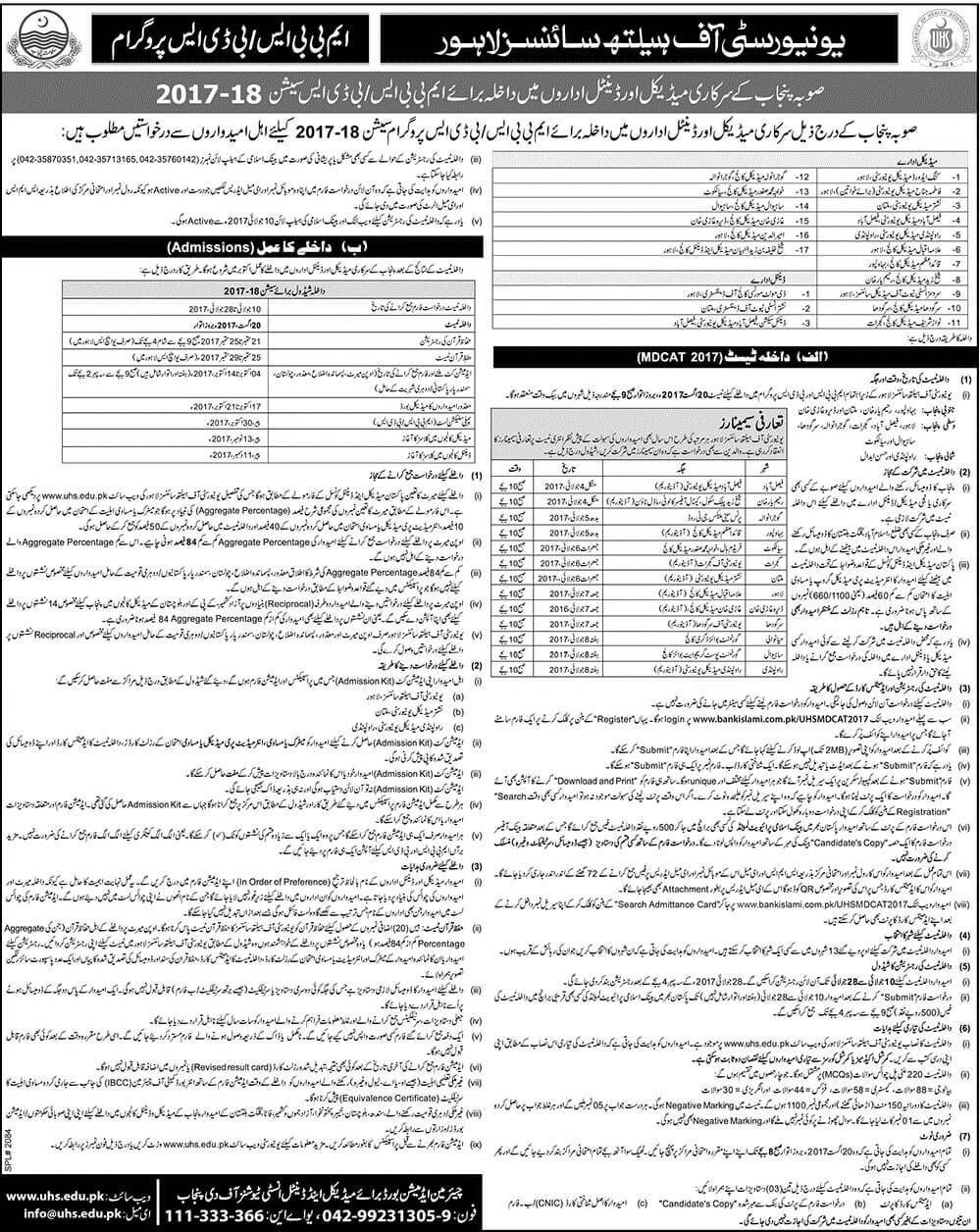 "The marks obtained by candidates in various education boards across the province are not a standardized measure of their abilities. It is therefore important to let all of them go through a comprehensive test. This ensures justice, impartiality, merit and transparency", UHS VC maintained. This is whole information of MDCAT Entry Test 2017. How i am writing. Drop your complaints and suggestion about my Writing in below given Comment Section.