Pakistan Engineering Council(PEC) announces 4th Engineering Practice Examination commonly known as EPE in this summer 2013. All those Registered Engineer (RE) can becomes Professional Engineer (PE) through this exams. Pakistan Engineering Council 4th Engineering Practice Examination (EPE) For Title of Professional Engineering will be allotted to all Registered Engineers. Under the provisions of PEC Act and CPD byelaws-2008 is holding 4th Engineering Practice Examination (EPE) for Registered Engineer (REs) to get prestigious title of Professional Engineer (PE). The "PE" has privilege over "RE" in terms of Technical sanction authority, design/process certification, and preference for higher levels leading towards international practice.
S.No

Activity

Date

1.       
Announcement of 4th EPE examination
17th March 2013
2.       

Last date of submission of applications

30th  April 2013
3.       
Issuance of Roll Number slips, guidelines andstudy kits
Starting from 15th May to21st  May 2013

(by post, email & website)

4.       
Holding of examination
16th  June 2013 (Sunday)
5.       
Announcement of result
28th  June 2013 (Friday)
PEC 4th Engineering Practice Examination (PPE) Summer 2013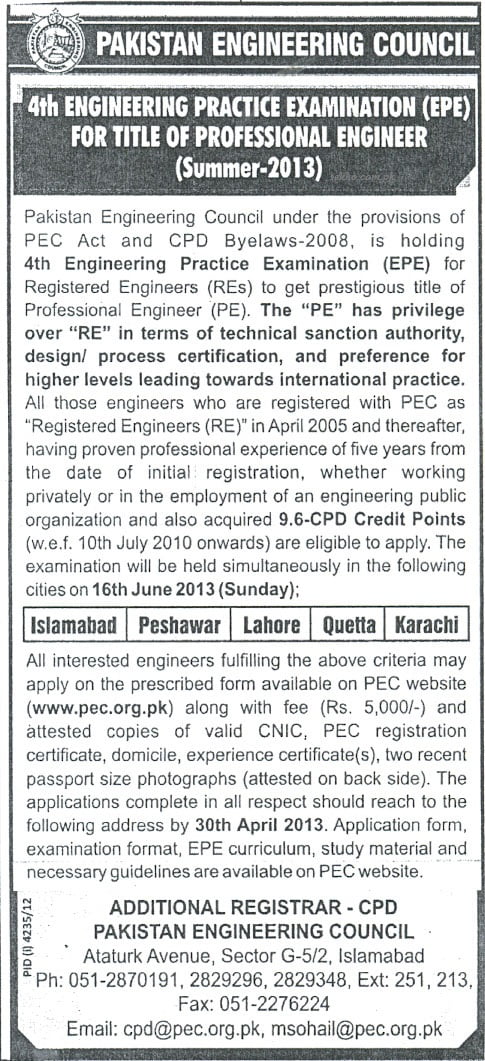 (Published in Daily Jang on 17th March, 2013)
Application Form (Word Format)
Application Form (PDF Format)
Calculation of Required CPD Points for EPE
Calculation of Acquired CPD Points by Candidate
EPE Curriculum and Study Material
All those engineers who are registered with PEC as "Registered Engineers (RE)" in April 2005 and thereafter, having proven professional experience of five years from the date of initial registration, whether working privately or in the employment of an engineering public organization and also acquired 9.6-CPD Credit Points (w.e.f. 10th July 2010 onwards) are eligible to apply. The examination will be held simultaneously in the following cities on 16th June 2013 (sunday); Islamabad, Peshawar, Lahore, Quetta and Karachi. All Interested engineers fulfilling the above criteria may apply on the prescribed form available in further writing.
Form should be submitted along with fee (Rs. 5000/-) and attested copies of valid CNIC, PEC registration certificate, domicile, experience certificate (s), two recent passport size photographs (attested on back side). The applications complete in all respect should reach to the following address by 30th April 2013. Application Form, Examination Format,EPE Curriculum, Study Material and necessary guidelines are available. For Further Information candidates can contact with Pakistan Engineering Council upon given contact details.
ADDITIONAL REGISTERAR-CPD PAKISTAN ENGINEERING COUNCIL
Ataturk Avenue,Sector G-5/2, Islamabad
Ph: 051-2870191, 2829296,2829348, Ext: 251,213,
Fax: 051-2276224
Engr. Dr. Ashfaq Ahmed Sheikh
Additional Registrar (CPD)
Ph: (+92) 51-2876702, Fax: (+92) 51 2276224
Email: drashfaq@pec.org.pk
Engr. Muhammad Sohail
Deputy Registrar (EPE)
Ph: (+92) 51 2870191, 2829311, Ext:213, 251 Fax: (+92) 51 2276224
Email: msohail@pec.org.pk
cpd@pec.org.pk