According to Pakistan Maths Challenge 2012 organizers their Vision is fixed over to build the reliable source for Students. As we all know that Mathematics is the next generation in learning. Finally Pakistani Community who loves with maths have an opportunity to show off their relevant skills in this field. This Opportunity is for all no matter from which school they belongs to. This competition named under Pakistan Maths Challenge 2012(True source of Knowledge). All About Competition is already decided and registration process starts. Students can be registered under this Challenge from 8th October.
When you complete Your Registration than Click on below given Link for Sign in with your username and Password which you received after complete registration.
Starts Your Pakistan Maths Challenge Test

Download this Video in below given Link to Know;

How to Sign in for Pakistan Maths Challenge 2012

| | |
| --- | --- |
| Begin: | Tuesday, October 30, 2012 at 02:00PM |
| End: | Wednesday, October 31, 2012 at 05:00PM |
| Location: | Pakistan |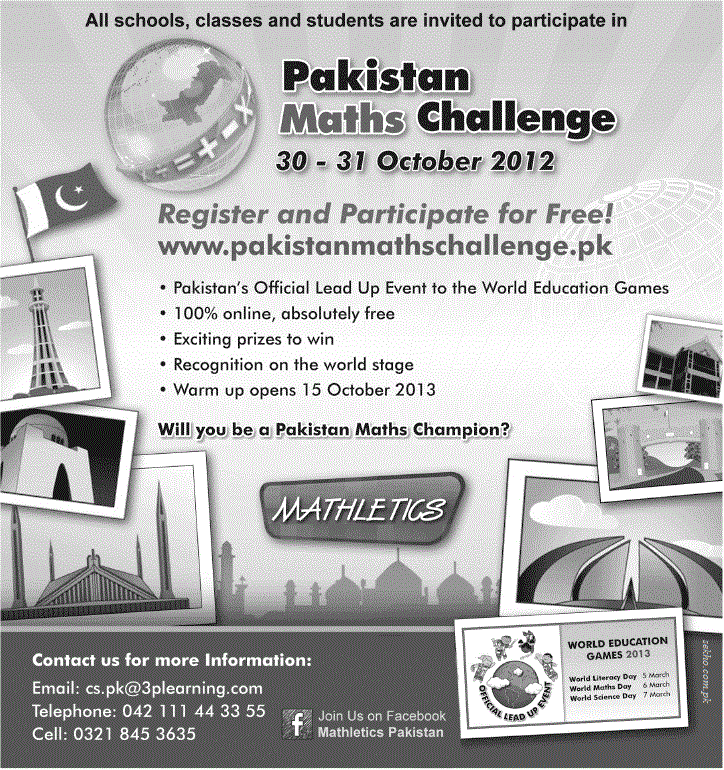 Registration Process is so simple for Children. The Registration Key is also available here which you will find in below given Link already provided at this page.The Pakistan Maths Challenge is open to all schools and students across Pakistan. When you Click upon in below given Link for Registration than you will automatically retrieve to the options that either you want to register under Schools or Individual. When you simply put on your email address than you will be given an Test Email with a Link which shows details:Please complete your registration for the Pakistan Maths Challenge by clicking this link:
Complete My Registration ( http://www.mathletics.pk/pakistanmathschallenge/************** )
Once you have filled in all your details and submitted your registration you will receive your sign in details for the competition via email and will be able to sign in and begin warming up for the event from 15 October.
Remember ? you have access to Mathletics for the duration of the event, from 15 October to 30 November. The more you practice, the more fun you can have!
When you do exactly what will be buzzed up through that email. When you cilck up the Link as already there you will receive an details form named under Step 2. Please fill that form with accurate information. When you Complete that Form you will receive another final email with User name and Password automatically generated for you so that you cam sign in for Pakistan Maths Challenge.
Hi there,
Thank you, you are now registered for the Pakistan Maths Challenge!
Your Sign In Details Are:
Username: **********
Password: **********
Please keep these details in a safe place.
Your child uses these details to sign in to www.pakistanmathschallenge.pk to participate in the event. They can sign in from 15 October to practice for the event. Results and Certificates will be available after the event to 30 November.
Remember – you have access to Mathletics for the duration of the challenge, and can start warming up on Monday, 15 October. The more you practise, the more fun you can have!
For more information, please download this Parent Quick Start Guide
If you would like to register another child please click here to proceed.
Remember ? you have access to Mathletics for the duration of the event, from 15 October to 30 November. The competition is a great chance to trial Mathletics with your children, and you can keep their achievements and continue their improvement by purchasing a subscription here.
So finally you are registered and use this Sign in Information on listed website in that email.
FAQS:
What is the Pakistan Maths Challenge?
The Pakistan Maths Challenge is a fully-online mathematics competition. Students are registered by a school or at home and receive their own challenge login credentials by email. Leading up to the event, students will have 24/7 access to Pakistan Maths Challenge activities.
The challenge kicks off on 30 October  with Curriculum Mathletics, where students are challenged with 50 mathematical concepts. On 31 October students use their mental arithmetic skills to participate in 100 Live Mathletics challenges. The Hall of Fame will display the highest point scoring students, classes and schools according to the rules of the competition throughout both days of the event.
For More Answer/Queries of Questions rises in your minds will be available to you people after registration so far.Comment Section is also there so that you can submit your queries here at this page only about Pakistan Maths Challenge 2012.