Sindh Board of Investment(SBI) starts Entrepreneurship Development Program 2012 in collaboration with IBA Sukkur. Now you can submit your application form against this excellent opportunity for residents of Sindh Pakistan. SBI seeks application against this Program. Due to recent increase in the population of Sindh which comprises of Young Generation mostly lie under the age of 20 and 45 Years, so keeping concentrate upon this thing now Sindh Government,Sindh Board of Investment(SBI),Sukkur IBA(Institute of Business Administration),Centre for Entrepreneurial Leadership & Incubation collectively takes decision and launches this Program which is enough to full fill Job Requirement in the Province. That Program named under Entrepreneurship Development Program 2012. As the name explore the minds in terms of many ideas generating deeds over there.
[Download] Application Form
Last Date to Apply is 20th October 2012
Actually the basics motive of Sindh Investment Board behind this Program is to provides an platform to students so that they can struggle in only one way to run their Small businesses by utilizing Province's Natural & Agricultural resources already exist there in province. The involvement of IBA Sukkur will provides the Man power already enriched with creative minds for this kind of Program. So we are pleased to announce that this program is much important to consume their minds in terms to increase production in Sindh. This is actually an training Program only launched because of betterment of Young Generation. There are lots of Qualities of this Entrepreneurship Development Program 2012 as listed here.
SBI Entrepreneurship Development Program 2012
All those candidates are eligible having Sindh Domicile only. The age limit is 20-45. Under this Training Programs Candidates will get 4 months indoor training and 2 months Field training so that they can easily apply their bookish knowledge in real form field actually. Training Program will consists of Marketing,Accounts,Finance,Entrepreneurship Agri-Business and Computing. But in this Program knowledge givers will ponder upon developing the Entrepreneurship Skills both Bookish as well as Practical.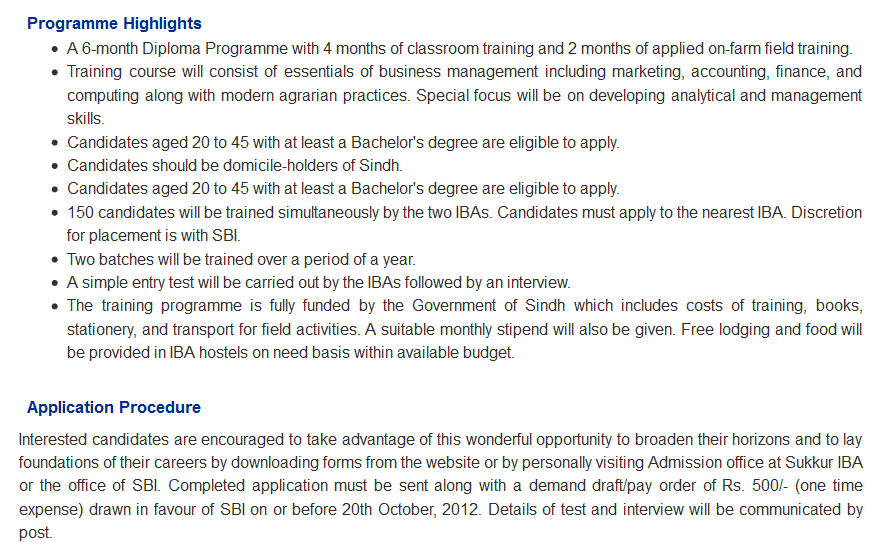 First Batch will consists of 75 Candidates and two Batches are target of one year. An simple Entrance Test and later interview after Test also includes in per-requisits of this Entrepreneurship Development Program 2012. This Program's Financial Needs will be full filled completely from Sindh Government. Comment section is there if you want to show your willingness against this SBI Entrepreneurship Development Program 2012. Share with us what do you think about this Creative Programs initialize by the Government of Sindh.