Punjab University LLB entry test 2017 date, syllabus result is given here, you can get all the entry test schedule from here and we will also provide you PU LLB entry test result 2017. This site specially gives you up to the minute Jobs, Admissions, Results and latest Education news.Punjab university Law College is offering you admission in LL.B (03 years) for the year of 2017-18 and B.A LL.B (05 years) program for 2017-18. LL.B is a three years course with an examination at the end of each academic year. The Morning classes are open to full time students while the evening program is restricted to employees of various government/semi government organization. Admission criteria and test schedule of 3 years and 5 year program are given here, for three years program eligibility is B.A/B.Sc or equivalent and 25 marks for maximum two subjects from English lit, Political Science, History, Economics, Sociology and  Journalism/Mass Communication and elective subjects with 200 marks out of 800 marks in BA/B.Sc or proportionate Weightage in equivalent examinations.Entry test for both the program will be taken and all the schedule of these entry test is given here. Total marks of the Entry test will be 100 and for LL.B 3 years and 5 years admission test will be taken from the following subjects :
English: (Comprehension Paragraph, Paragraph Writing-300 word)
Pak Studies: (MCQs)
Islamic Studies: (MCQs)
General Knowledge/ abbreviation: (MCQs)
Current Affairs: (MCQs)
Punjab University LLB Entry Test 2017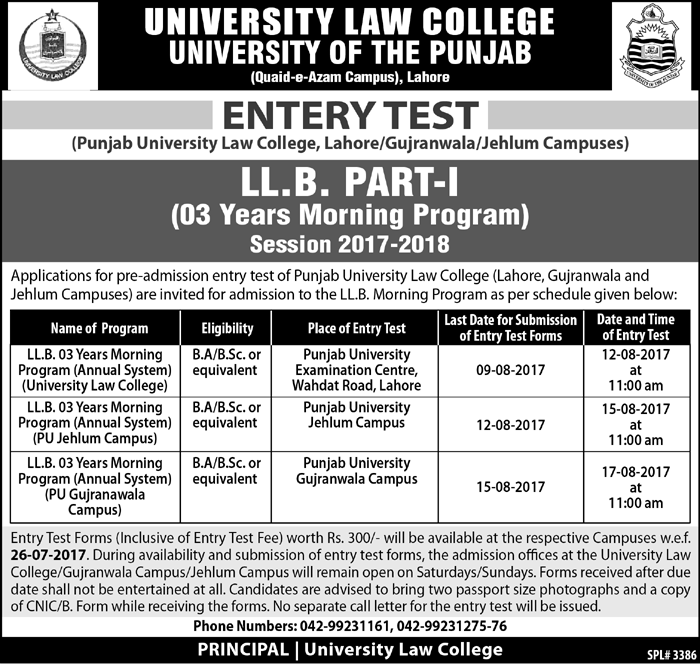 Result Announced 
Total seats for this program are 272 while 11 seats are reserved and 261 are available on the basis of merit. While Eligibility for LLB 5 years program in PULC is FA/F.Sc/A-Level or equivalent (Fresh Candidates only) with minimum 55% Mark for this programme there are 53 total seats and 09 are reserved rest 44 seats are available on totally merit basis.This College is one of the Constituent Colleges of the University of Punjab, dedicated ti the Promotion of sound and enlightened study of Law. In 1885 the system of two annual examination in the same subjects but the higher standard in the second year was replaced by a system of three progressive examination known as the Preliminary in Law, The first Certificate in law and the Licentiate in Law. From 1885 to 1906 the courses of study extended over three years. It is one of the best Law college of Punjab and developing itself day by day.