National Testing Service Pakistan introduces National Teachers Database (NTD) in collaboration with leading educational institutes in Pakistan. Actually In order to fulfill the needs of educational institutes & potential teachers, NTS proudly announces the National Teachers Database for getting better response from education sector of Pakistan. NTD is a standardized recruitment test for potential and existing faculty,teaching at National Level. This Program is expected to provide valuable services to the National Teachers Database Associates and Potential Teachers. Just for the sake of teachers and giving them a reputed place in society National Testing Service launches this Product.
Upcoming NTS National Teacher Database Test
Last Date of Registration: Monday, 19th November 2012
Test Date: Sunday, 16th December 2012
National Teacher Database Application Form
For BA/BSc (14 years):
NTD Registration Form for Bachelor of Arts / Bachelor of Science (PDF)
For Master (16 years):
NTD Registration Form for Master (16 Year Degree) (PDF)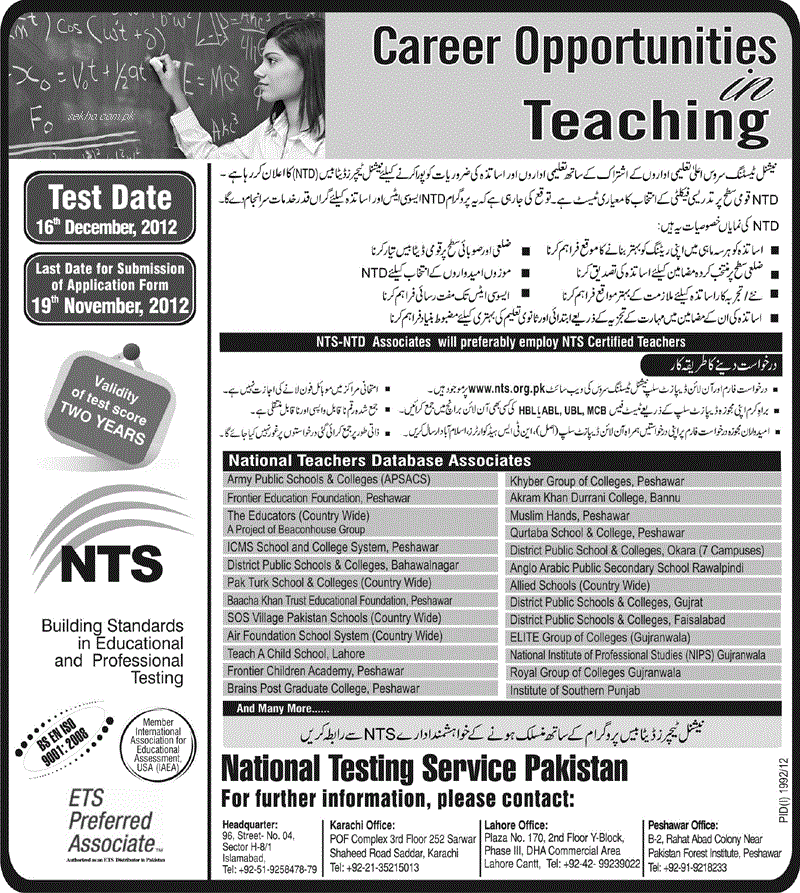 NTS National Teacher Database Program Schedule
| Sr # | Test Date | Advertisement Dates | Last Date of Submission of Registration Form | Provisional Candidates' list will be uploaded on website | Queries will be entertained till | Roll No. Slip Dispatch Date | Result Announcement Date on NTS Website |
| --- | --- | --- | --- | --- | --- | --- | --- |
4
Sunday
16th December
2012
Sunday
28th October
2012
Monday
19th November
2012
Tuesday
27th November
2012
Monday
3rd December
2012
Thursday
6th December
2012
Monday
24th December
2012
5
Sunday
17th March
2013
Sunday
27th January
2013
Monday
18th February
2013
Tuesday
26th February
2013
Monday
4th March
2013
Thursday
7th March
2013
Monday
25th March
2013
National Teachers Database Programme (Sample Papers)
How to Attempt NTS National Teacher Database Test
How to Submit Fee for NTS National Teacher Database Program
Result will be displayed here at this page when it will be announced by NTS authorities according to Schedule NTS-NTD.
This Test(National Teacher Database) will provide an opportunity to the teachers for improving their rating every quarter of year. Now teachers can get certification through this National Teachers Database according to their subjects at district Level. Provide better employment opportunities for both fresh and already experienced teachers so far. This Test is also can evaluate teachers according to their skills in relevant subjects on the solid base for improvement of primary and secondary education. both at district and provincial level. The Test Result will be valid till two years so far. NTS-NTD Associates will preferable employ "NTS Certified Teachers".
For Queries:
For test and test center inquiries and queries related to score reporting, and for other purposes like putting complaints or providing feedback, you may get in touch with NTS on the following contacts:
Email: [email protected]
Headquarter: (Islamabad Office)
96, Street No. 4, Sector H-8/1, Islamabad
Tel: +92-51-9258478-79
Fax: +92-51-9258480
Comment section is there so that you can submit your views about NTS National Teacher Database Program.