So this time to gives output  by giving Federal medical college entry test 2017 which will be conducted on 7th and 8th October. Actually all Eligible Candidates as well as those candidates who received Call letters now have to accomplish another task of Entry Test to get their berth in Federal Medical & dental Colleges admissions perspective. Candidates should be clear about  province based seats allocation. FMDC is affiliated to the Shaheed Zulfiqar Ali Bhutto Medical University (SZABMU). This year the Education Test Service (ETC) for MBBS and BDS. It is mandatory for those student who are really intending to take admission in the FMDC to pass this ETC entry test.
Federal Medical College Entry Test 2017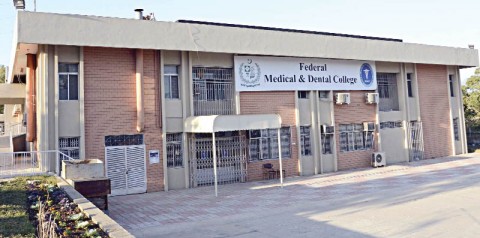 Test will be conducted By NTS for FMDC,which will be FSc Based test.
(NAT,GAT and other general tests of NTS are not not accepted in FMDC)
Exact Date of the test will be decided and announced by Admission committee,So Please Wait for the Announcement.
All the information about the test date,when & how to apply Will be published in all the Local Newspapers by NTS & Admission Committee.
We will also share that Advertisement on the wall of this Page.
Aggregate Formula is
10% Matric
40% FSc
50% Test
Test will have 100 MCQs (30 Bio,30 Chem,30 Phy & 10 English)
With No Negative Marking.
Address:-Federal Medical & Dental College Near NIH, Chak Shahzad. , Islamabad, Pakistan
Phone:-051-9255808
Admission to Federal Medical and Dental College (FMDC) in Islamabad would be given on 'merit' and according to provincial quota as reserved under the constitution.Few seats would also be reserved for the federal government employees and domicile holders of Islamabad Capital Territory.
All the candidates who are selected in 2nd merit list are informed that they will come in Federal Medical and Dental College at 9:00 am sharp with the following documents
1. Matric and Fsc certificates (original)
2. National ID card self and father (original)
3. Domicile certificate (original)
4. 5 passport size photograph
5. Attested Photostate copies of above documents (2 set)
Note: 9 am reporting time.9:30 will be attendance time and you are allowed to bring blue or black ball point with a clip board.original  CNIC required.Time 120 mints..for 100 mcqs in Federal Medical College Entry Test 2017.
Actually before the actual day for Federal Medical College Entry Test students are very curious to get some answers from FM&DC officials like
Q: "either there is negative Marking in Test Result or Not?"
Ans: There is no Negative Marking
Q: What will be the Federal Medical College Entry Test Syllabus/Paper Pattern?
Ans: Test Will come from whole books 30 questions from each science subject 10 Questions from English.Entry Test is not tough at all as per some candidates buzzed up with us.Mainly it consists of 80 % simple mcqs which r neithr tricky nor too conceptual and the remainig 20 % is comprised of numericals which can only be tough for students.
Q: Any MCQs as sample from Previous Year?
Ans: 1-The magnitude of the periodic force whch the simple pendulum xerts on the suspension point,depnds upon
a. lngth of pndulum
b. time period of vibration of pendulum
c. mass of bob of pndulum
d. value of g(Correct Ans)
2- which of the followng cannot be recycled?
carbon
nitrogen
energy(Correct Ans)
sulphur
3-A proton is placed midway b/w two parallel metallic plates which are 0.2 meter apart. The plates are connected to an 80 volts battery. its electric intensity will be?
A. 400 N/C( Correct Ans)
B. 700 N/C
C. 800 N/C
D. 600 N/C
4-Which one of the Following is Casia Family and Which one is Acacia..
A.Papilionacea/Fabacea
B.Cesalpinacea
C.Mimosacea
D.Poacea
5-Which One of Following Element Has Highest Electron Affinity.
A.Flourin
B.Chlorine
C.Bromin
D.Iodin
6-Which one of The folowing Has Highest Electron Affinity
A.Boron
B.Carbon
C.Nitrogen
D.Be
7-Crab Belongs to which of the Class:-
Class Arachnida
Class Chilopoda
Class Crustacea
Class Insecta (Ectognatha)
You can also download More Entry Test Sample Questions here.
Q: FM&DC consider Science subject percentage or take this entry Test as whole?
Ans: A s a whole
Q: Do you get negative points for the wrong answers in the entry test?
Ans: There is no -ve Marking at all.
All the candidates are advised to print their info ( roll number,test center,reporting time) etc i.e given on NTS wbsite in list of candidates. The candidates who would not receive their slips are asked to bring the print of your info from NTS website with two colors passport size photographs with ID card or Form B. So they would receive provisional slip 4m test center. Failing to produce photos would not issue provisional slip and nt to allow for test. If you are unable to get Entry Test roll Number Slips for this FM&DC Entry Test 2017 than you can get online. These Entry Test only conducted for MBBS 100 seats.There is not even a single self finance base seat in fmdc Entry Test 2017 and all are for open merit. Fee is 24 thousand for each seat.