learn about studying and living in the UK through this free of cost Online Exhibition and this is your chance to directly interact with representatives from 32 UK Institutions actually. Take Part in Live Chats,ask online queries or access content; get information on scholarships,programmes,admission procedures,student facilities and many more things! So don't miss this excellent opportunity! and Register today at below given Link.
Register Here

November 28,2012———————————-7 December 2012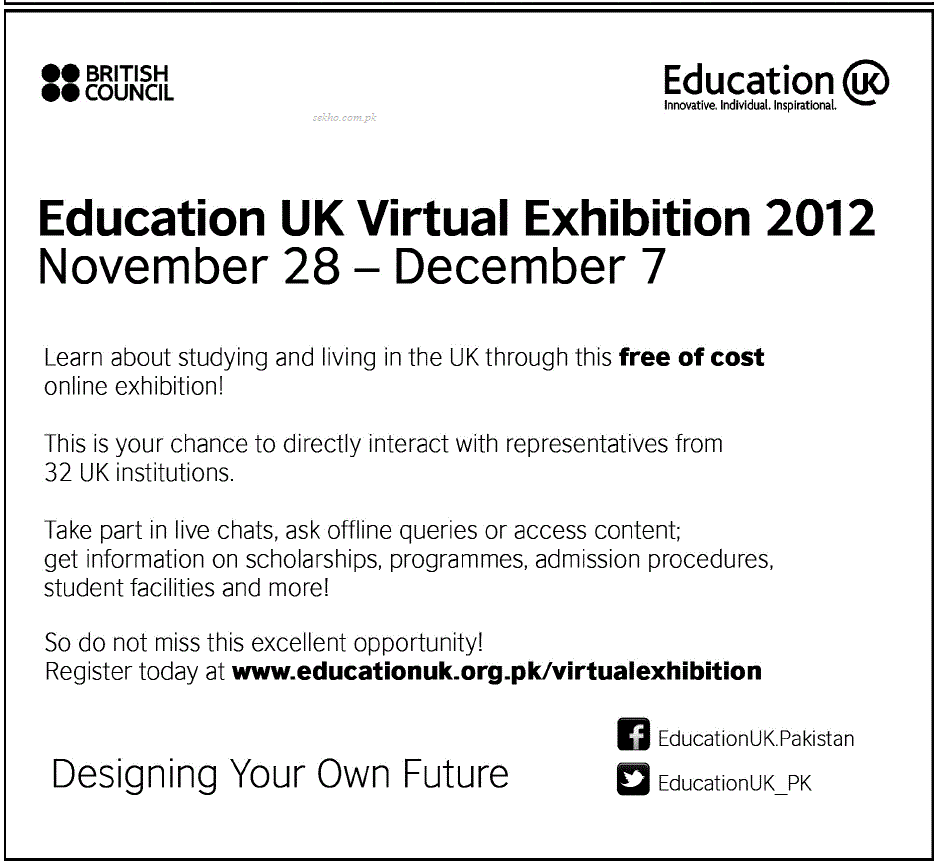 The British Council started its third Virtual Exhibition 2012 under its Education UK (EUK) programme. Facilitating Pakistani students, the Virtual Exhibition is now launched through an most effective online platform has been reaching out to thousands of potential students for the last three years as well as this year.
The Education UK Virtual Exhibition 2012 for Pakistani Students was formally launched in a ceremony in Lahore on Saturday. Richard Weyers, Director Punjab, British Council said, "The British Council is delighted to be leading the way in providing virtual opportunities for students to connect with UK universities. We have a record breaking 32 UK universities involved in this year's exhibition and we hope this will benefit many thousands of potential students in Pakistan."
Head of EUK in Pakistan Nadia Kamran said, "Virtual exhibitions are a flexible and sustainable approach to provide quality service to Pakistani students as anyone can be part of them from any location. The British Council is the first in Pakistan to pioneer such an exhibition!"
The Education UK Virtual Exhibition 2012 for Pakistani Students includes live chat sessions with not only UK university representatives but also with the British Council's expert IELTS and English teams to advice prospective students.