Karachi University LLB Final Annual Exams Date Sheet 2014 is given here, you can get all the latest news about education and related to education. This site specially gives you latest admissions, Jobs, Results and many other news about education are available here.At the time of creation of Pakistan as a sovereign starts in the year of 1947, means for higher education and research were ineligible and then the University of Karachi was established by an act of Pakistan parliament in June, 1951. The present campus, to which the University shifted in 1959, is spread over 1279 acres of land, situated 12 Km away from city center. Today the University is recognized as a premier center of learning and research in the Subcontinent and in the Third World. A number of scientist and scholars affiliated with the University are working in important position both within and outside Pakistan and have won recognition and acclaim at all. University of Karachi has announced the LLB Annual examinations date sheet for the year of 2014.
We have given you the date sheet here and some important instructions for the examinations also. First Exams of LLB will be conducted on Saturday 16,August, 2014 and last one on Saturday 30 August, 2014. Students of Karachi University of LLB can get date sheet from here and can prepare themselves for exams.
Karachi University LLB Final Annual Exams Date Sheet 2014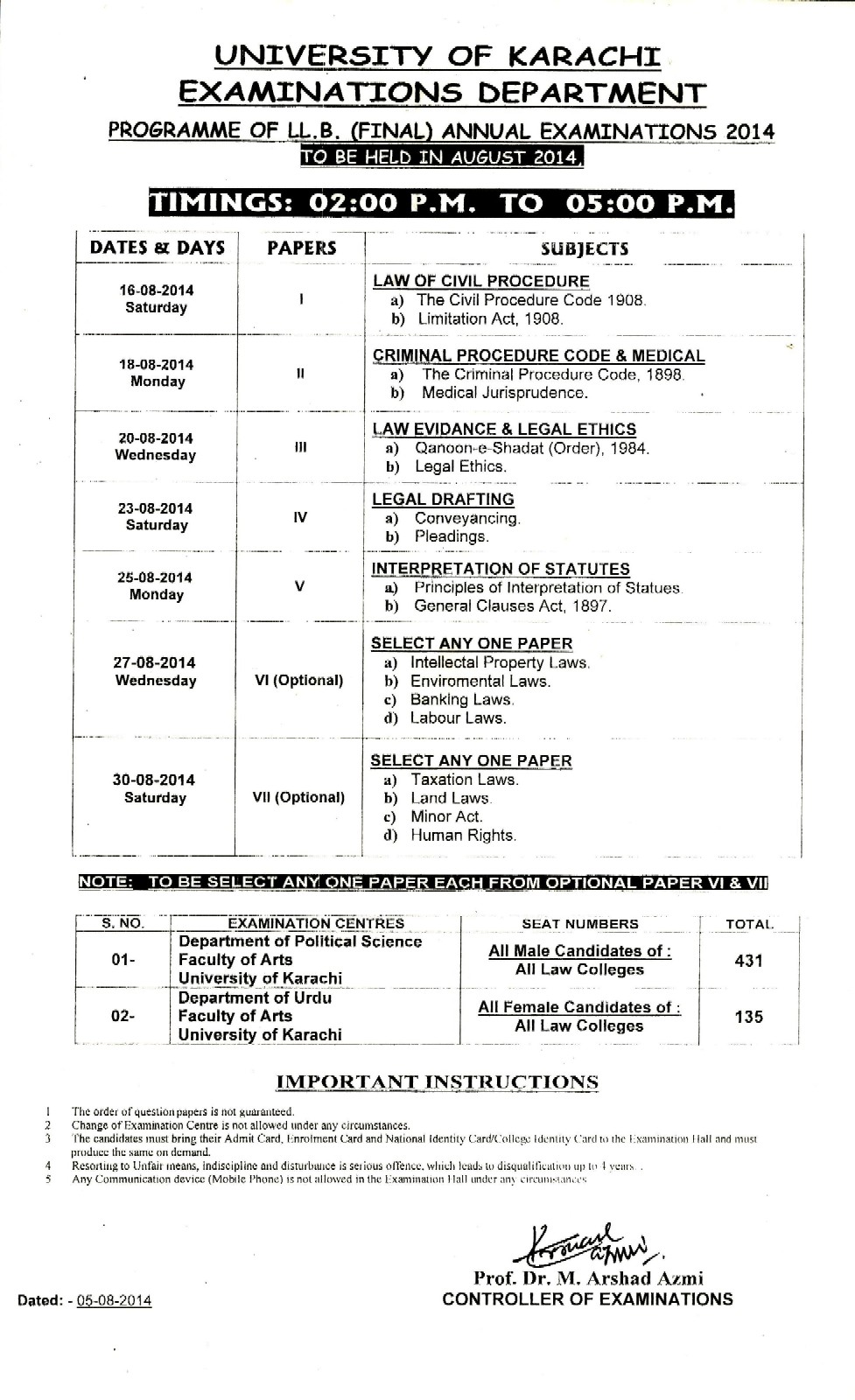 Our site is facilitating you with every latest update here and we have given you the Karachi University LLB Final Annual Exams Date Sheet 2014 here. In LLB Final Annual Exams the order of question papers is not guaranteed, Change of Examination Center is not allowed under any circumstances. The candidates must bring their Admit Card and National Identity Card/College identity Card to the Examination Hall and must produce the same on demand. Resorting Undait means, indiscipline and disturbance is serious offense, which leads to disqualification up to 4 years. Any Communication Device (Mobile Phone) and any other electronic device is not allowed in the Examination Hall.