10th Convocation of Lahore College for Women University will be held on 24th December 2012 and it is recently updated news that Lahore College for Women University is holding its 10th Convocation on Monday December 24th, 2012. Medals, Rolls of Honour and Degrees will be awarded to the students who have qualified BS, MS/ M.Phil, Ph. D. and Pharm-D in the year 2011.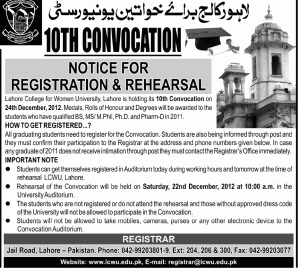 Registration:
All recent and graduating students have to register for the 10th Convocation 2012. Students are also being informed through given official advertisement of Jang news paper and they must confirm their participation at the Registrar at the address and phone numbers given at the end of this page announcement. In case any graduate does not receive intimation through post , they must contact the Registrar's Office immediately.
Important:
Students can get themselves registered from 17th to 21st December,2012(this Monday to Friday) between 9:30 a.m to 3:30 p.m. at the Old Hall (Ganga Ram Building), LCWU, Lahore.
REHEARSAL of the Convocation will be held on SATURDAY ,22ND DECEMBER,2012 at 10:00 a.m. in the University Auditorium.
The students who are not registered or do not attend the rehearsal and those without approved dress code of the University will NOT BE ALLOWED TO PARTICIPATE IN THE CONVOCATION
Students will not be allowed to take mobile phones, cameras, purses or any other electronic device to the Convocation Auditorium.
For any queries, call 042-99203801-9, Ext: 204, 206 & 300.
Fax: 042-99203077
Email: [email protected]
Happy Graduating to all students of session 2011!