Chief Minister of Balochistan Mr. Nawab Sanaullah Zehri has announced CM Balochistan laptop scheme 2017. Through this scheme, 10,000 laptops will distribute among the brilliant students on merit basis in the province of Balochistan. This scheme was introduced in January 2017 and the government started registration for the students in the month of July and August. CM Balochistan laptop scheme 2017 is the first phase of this scheme and before this students have gotten laptops through Prime Minister Laptop scheme and HEC. Through this scheme 10% laptops will be given to students on open merit basis while rest of the 90% laptop will awarded on district quota bases. 20% laptops are specified for the intermediate students, 40% laptops are for Bachelor and rest 40% are for Master, Mphil and PhD. Those candidates who have received any other laptop through PM or HEC scheme are not eligible to get another one. In this article you will learn about the CM Balochistan Laptop Scheme 2017 and its registration forms.
CM Balochistan Laptop Scheme 2017 Registration Form
Eligibility Criteria:
eligibility criteria is mandatory for each and every student to full fill in order to apply online CM Balochistan laptop scheme 2017. even though every one can apply but in this case if a student will not meet with these eligibility will be rejected to proceed. So read the following bullets care fully.
A Candidate who have is enrolled in FA / FSC / ICS /DAE are eligible
A candidate must have pass last exam with at least 60% marks
Candidates who are enrolled in B.A/ B.Sc/ B.S/ D.V.M/ MBBS and BDS are also eligible to apply if they have 60% in annual exam and 70% marks in semester system
Those candidate of province who are enrolled in 2 year or four year master program of MS/ MPHIl and PhD, who have 70% in semester system
Candidate who are doing any private or government job are not eligible for this scheme
Last Date: Candidates can submit their application forms till 24 August 2017.
Registration Procedure:
Registration forms are available in every educational institute. A candidate can get registration form for from his Concern University/ college. Registration form can also download from the web sites of institutes. An application form must submit to the office of the head of institute along with all basic documents. Application after last date receives will not accept.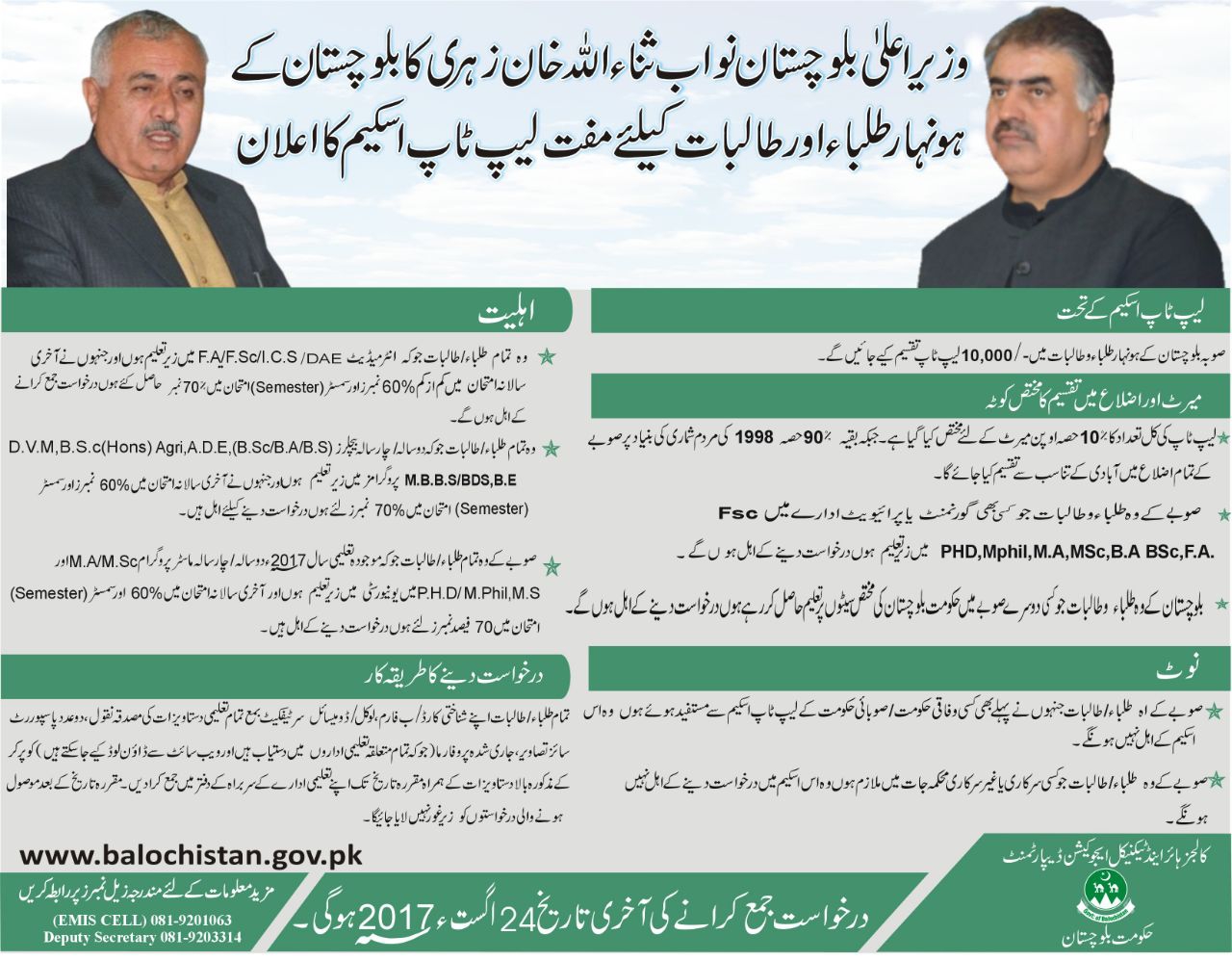 Hence these are the complete details about CM Balochistan laptop scheme 2017 registration form, eligibility criteria, last date and advertisement. Hope you are all now well aware with this post but in case you have any confusion or query relating to this post you can send your FAQs in the following comments box.