BISE Gujranwala Inter Part 2 Position Holder Refuses Gold Medal. The Details of news is here An intermediate position holder of pre-medical group refused to accept the gold medal from the provincial education minister here on today on 8th September during an award distribution ceremony in Gujranwala on Saturday as per News reported.
According to sources Asad Mehmood, who got first position in Gujranwala intermediate pre-medical examinations with 1017 marks, refuses the gold medal top accept when gold Medal presented by Punjab Education Minister Mujtaba Shujaur Rehman during a ceremony.
While identifying the reason, Asad share his feelings that IG Motorway trapped his father in a fake case while policemen clad in civil dresses are still threatening his family. He and his family suffering with such situation and how he accept this Gold Medal from that government who is actual the part of such kind of Activities directly and indirectly.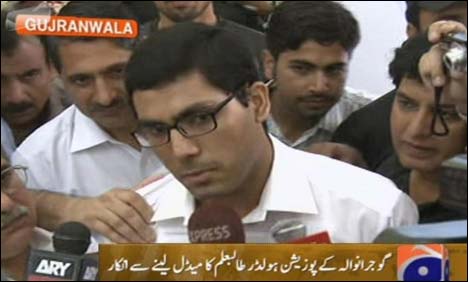 Minister Mujtaba Shujaur Rehman assured Asad that abrupt  inquiry would be organized in the case and if needed, the matter would be taken to Chief Minister Mian Shahbaz Sharif. So now your turn to speak for Asad through below given Comment Section here at this page.