Allama Iqbal Open University(AIUO) still offered admissions with late fee till tomorrow (5 September2012).AIOU Director admission Syed Zia Ul Hasnain said about the admission that admission forms along with late fee should be reached in already decided Banks in Pakistan as listed below:
Habib Bank Limited
First Women Bank
Bank Alfalah
Allied Bank
and above all selected branches of National Bank of Pakistan and Muslim Commercial Bank as per mentioned in Prospectus.For further information,prospectus,admission form you can visit www.aiou.edu.pk. The sale points was remained opened on Sunday and Saturday just for the sake of students who already face difficulties in respect of getting their admission forms.
AIOU admissions to continue till Tomorrow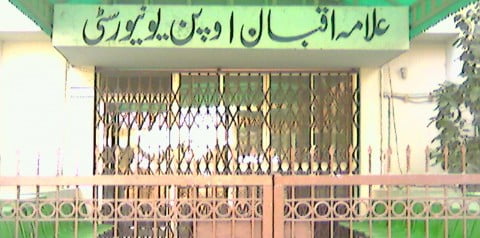 He said that
MA in Arabic
Islamic Studies
Urdu while Post Graduate Diploma (Gender and Women Studies) are also included.
In Bachelor's programmes
BS (Computer Science)
Bachelor of Mass Communication
Bachelor of Arts in Library and Information Science
Bachelor of Commerce
Bachelor of Arts and Associate degree in Commerce (Accounting and Finance)
(Banking and Finance) are being offered.
AIOU Master admission
MA Arabic
MA in Islamic Studies
MA in Pakistan Studies
MA in Gender & Women Studies
M.Com (Accounting & Finance)
MBA(HRM,Marketing,IT,Banking & Finance)
International 90-credit program COL MBA/MPA is being offered in collboration with commonwealth of learning,Canada.