Educationally Pakistan is going great,when Pakistan came into being the trend of education was not considered but now a days interest of people is increasing with every passing day. Education in Pakistan is overseen by the Ministry of Education, Government of Pakistan as well as the provisional governments mostly assists in curriculum development, accreditation and in financing of research  and development. With every passing day, new colleges, Schools and Universities getting developed and education of Pakistan is getting promoted. If we take a look on Literacy rate of Pakistan form census to census the definition of literacy rate is getting changed. And during 5 Census the literacy figure has vacillated irregularly. Educational institutes have a great role to take literacy figure on top, because if there will be no educational environment and institute how can the people get educated. So in this post we have given you Best Top MBA BBA Universities in Pakistan because in this Era there is a scope of commerce studies. For Commerce a number of universities are located in Pakistan, specially in Punjab province there are number of Universities of Engineering, Technology, Science, Medical, Agriculture and all type of educational institutes are more than any other province of Pakistan.
As I told before in Pakistan students take more interest in Bachelors degrees after doing intermediate, we are going to facilitate all the students interested in commerce study by giving the Top MBA BBA Universities in Pakistan. Top MBA BBA Universities List  in Pakistan is given below:
Best Top MBA BBA Universities in Pakistan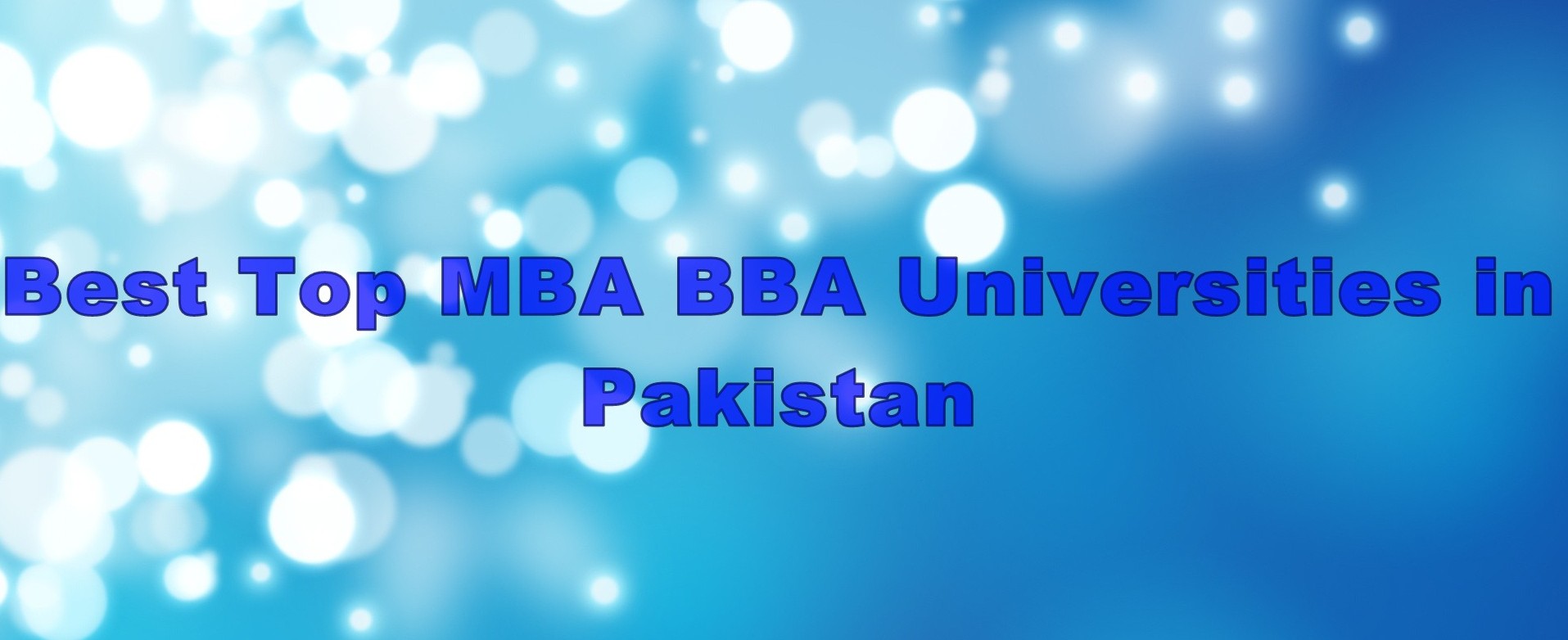 List of  Top MBA BBA Universities in Pakistan
University of Agriculture (UAF), Faisalabad
NWFP University of Agriculture, Peshawar
University of Arid Agriculture, Rawalpindi
Lahore University of Management Sciences (LUMS), Lahore
Institute of Business Administration (IBA), Karachi
Bahauddin Zakariya University (BZU), Multan
Shaheed Zulfiqar Ali Bhutto Institute of Science and Technology, Islamabad
Shaheed Zulfiqar Ali Bhutto Institute of Science and Technology, Karachi
Lahore School of Economics, Lahore
Iqra University, Islamabad
Institute of Business Management Karachi. (IBM)
CECOS, Peshawar
Muhammad Ali Jinnah University, Islamabad.
City University of Science & Information Technology, Peshawar
National University of science and technology, Rawalpindi
International Islamic University, Islamabad
Qauid-e-Azam University, Islamabad
University of Peshawar, Peshawar
Govt College Lahore University, Lahore
Isra University, Hayderabad
University of Balochistan Sariab Road, Quetta
Gomal University, D.I. Khan.
University of Azad jammu & Kashmir, MuzzafarAbad.
Lahore College for women university, Lahore
Hazara University, Dodhial Mansehra
Fatima Jinnah women university, Karachi
Bahria University, Islamabad
Shah Abdul Latif University, Kahirpur
Jinnah University for women, Karachi
COMSATs institute of information technology, Islamabad
Superior University, Lahore
University of Sargodha
There are lot of Universities offering MBA and BBA but here you will get all the universities which are providing best and excellent environment of education the universities discussed here have  highly educated, well experienced, Dynamic and having great skills in teaching.List of all that universities is given here you can see and choose according to your city. After Doing MBA and BBA you can get a great future ahead in Pakistan as well as abroad. After doing BBA (Bachelor of Business Administration) you can apply for Jobs or continue studies with Master Degree. MBA is post graduate degree of two years. If you have completed Master Degree then your value is increases due to more knowledge about Business field. If you have don MBA or BBA you can jobs in private sectors as well as in public sector so it is the best field to choose after Matric and we have given you Best Top MBA BBA Universities in Pakistan so that you can get a good institute to study.