As more your skin is white you will be the top story of everyone's brain. Every one desires to get a white skin to look more beautiful and attractive. The main thing that makes your personality glorious is your skin. If you will be having hard and damages skin, no one want to see your face at all. This thing is most common in all women , they are very conscious about their skin and hairs . Still there are so many women who are searching for some effective tips that can help them out to get a fair and glowing skin. For all those women and men we bring Skin Whitening Totkay in Urdu so that you can get a white face. There are so many things that can bring a huge change in your skin, but we will give you Skin Whitening Totkay without any side effect . The products you buy from market, they harm your skin and leads your skin to infection. But the Homemade tips for skin being provided in this post are very beneficial  , you will see the result within  few days. GOD has not given the gift of white and fresh skin to everyone, but you can make you skin fresh and white by the things created by GOD such as vegetables, fruits, meat, milk and many other things can brighten your face . Take a look down Skin Whitening Tips in Urdu are given below:
Skin Whitening Totkay in Urdu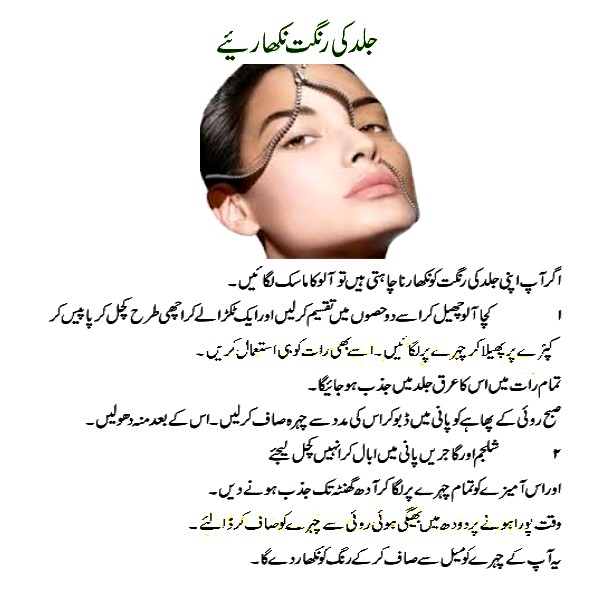 To get fair skin Boil Carrot and Turnip in water and apply it on your face after grading it completely and leave it for half hour on your face. After passing half our Wet the cotton piece in milk and clear your face with it it will help you to clear you face and to given you a fair and glowing complexion
If you want to get a fair complexion you have to use Potato Mask that can be very fruitful for your skin.
Peel the potato into to parts and dully grand it to apply on your face by spreading it on any cloth, use it in night to get better results. Clear your face with wet cotton piece and wash your face.
Stay in touch with this page to get More Totkay such as Desi totkay for skin whitening in Urdu , Desi totkay for skin whitening and  Zubaida apa k totkay in Urdu for skin from here.