People with dry Skin must check Skin Care Tips In Urdu For Dry Skin In Summer, as the summer has just started. Skin issues occur in the summer season especially for those having dry skin. Dry skin generates roughness, dull skin tone as well as it also produces rashes on face sometimes which is really a burning situation for one having dry skin. If you also having dry skin and worried about it, then you can get the solution from here. Here I am telling you some use to and use full skin care tips in Urdu for dry skin in the summer season. By applying these tips your skin will remain fresh, thick, smooth and glowing even in summer. Well, there are various issues of dry skin in summer and one of the most common reasons is sharp sunlight which creates heat and sweat on the skin. Dry skin absorbs the dust more than oily skin and that's why blackheads, rashes and other issues like these start appearing on your skin and ruin the facial complexions. Moreover, the face color also becomes dark and then you start searching for skin whiting tips for summer. But if you try these homemade remedies for dry skin care tips you will soon get rid of these issues. Keep on reading for it…
Skin Care Tips in Urdu for Dry Skin In Summer
Those male and female who have dry skin and looking for Skin Care Tips In Urdu For Dry Skin In Summer in Urdu are at right place. In this summer, you don't need to worry because we are sharing the Dry Skin Care Tips which are given in the below side in Urdu and English.
Skin Care Tips for Dry Skin:
So if you are also feeling worried about your dry skin then check Skin Care Tips for Dry Skin in Urdu and English. Follow this home remedy in order to get rid of
1 Egg, 1 tea spoon olive oil, 1 tea spoon rose water and 1 tea spoon honey. Make a paste of it and apply it on face skin
1 tea spoon un-boiled milk and 3 drops of lemon. Mix it and apply it on your face for 15 minutes then wash it
Vitamin E capsules and equal quantity lemon juice. Mix it and apply on face for 10 to 15 minutes and then wash your face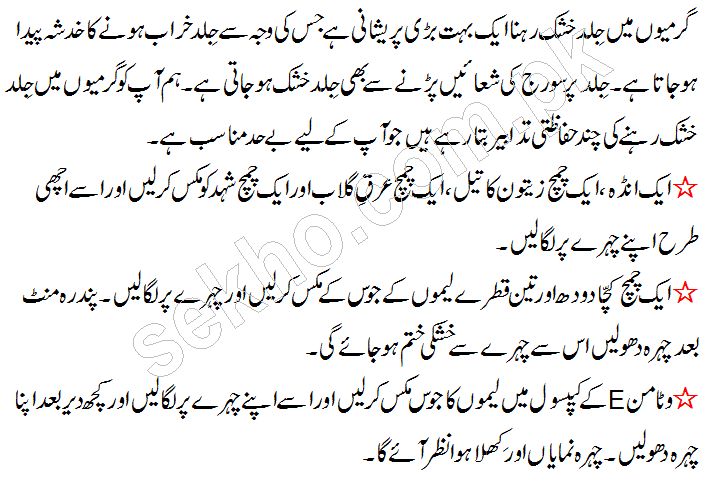 So hopefully you are all now well clear with these tips and these tips proves to be very helpful and beneficiary for you. There are so many lemon benefits for dry skin. So you can try these tips for the betterment of your face skin and you can also share your own remedies if you have tried any with us in the comments box.