Manicure and Pedicure has become a trend for the women of current ERA. A Manicure is a beauty treatment for the fingernails and hands with cosmetic products. You can do this at home or in a beauty salon. Manicure consists of filling, shaping of the free edges of nails and remove any non living tissue from the nail plate along with treatment and massage of the hands and hands polish. All this process if applied to the toenails and feet will considered as a Pedicure. Mostly girls do not prefer to go the a salon or beauty parlor to have a professional Manicure and Pedicure. For those girls we bring Manicure and Pedicure at Home in Urdu Method Step by Step. By the steps and tips given in this post you can get Manicure and Pedicure to yourself in minutes at home. You must try these steps for manicure and pedicure because Hands and feet are the most viable and important parts of the body. So if you have a wish to have long and beautiful nails must read this post and also the tips and steps given for manicure and pedicure.
Manicure and Pedicure at Home in Urdu Method Step by Step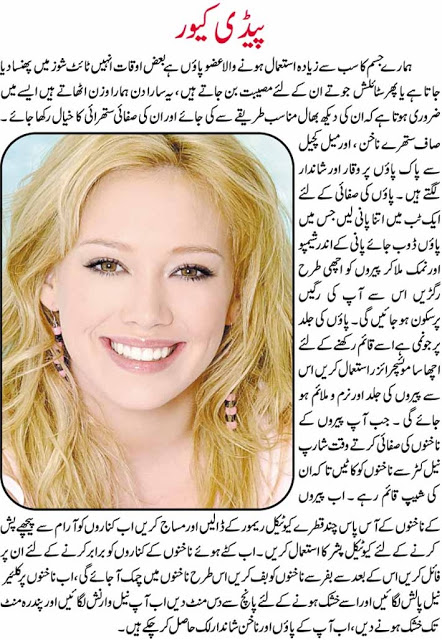 The fist step for doing manicure or pedicure is to prepare your nails by removing the previous polish or nail paint with the help of a Q-tip or cotton ball dipped in low-acetone. After doing that apply a base coat which will help for long lasting manicure. First coat of polish must be appied after this and then second coat. Now apply top coat and let your nails to be dry. You can very good results after doing all these steps and you will feel that you have got Pedicure and manicure from a professional salon or beauty parlor. Get the Manicure and Pedicure at Home Method Step by Step from this page and for getting more latest and new Beauty tips keep connected with this page.