Threading is a temporary hair removal used on eye brows and also on cheeks, chin, upper lips and lower also.Eyebrow Threading is the basic tip of beauty and to have a groomed look of you face. Threading removes all the unnecessary hairs from skin and give a unique shape to your eyebrows and other part of you body.Thread pulls the hairs form roots and stop them to grow soon but if you use any other thing to remove them they will come out soon. In this Era it is a basic and important need of the women to do threading on their eyebrows, they go the beauty parlor to make it done and different saloons. But after reading this post it would be easy to do this at your home. If any beautition is searching for the method of How to Do threading can read this post to get all the information from here. There are many ways to remove you unwanted hairs, but mostly people use that way to remove hairs because it doesn't harm your face and cause any infection.  You can get good results after reading the Eyebrow Threading Tips given here. Steps of Threading are given below:
Eyebrow Threading Tips in Urdu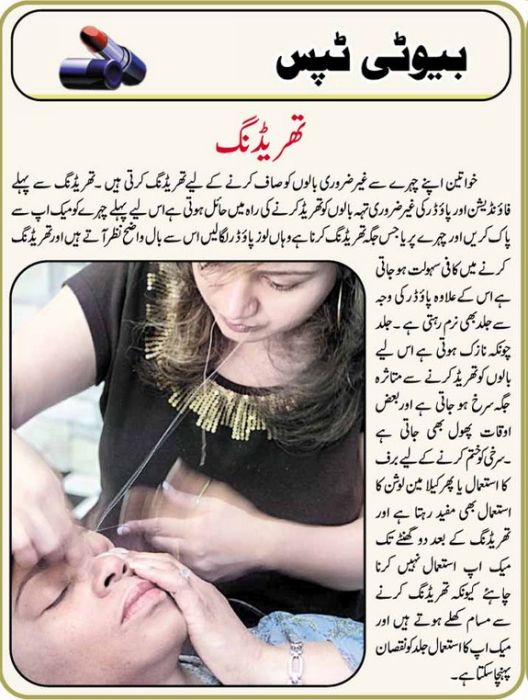 Shape you eyebrows with the help of eyebrow pencil and do outline, mark the place exactly how you want them. That will help you allot to stay in lines while threading.
Cut off excessive hairs while shaping you eyebrows, Use a spoolie brush to to brush hairs upwards and trim the top off with a small set of scissors.
Take a piece of cotton thread to be the length of your forearm, the less string you use the more you best it would be. Tie the ends together to create a loop.
Then stretch the loop between you hand and hold the thread after that, roll your right hand clockwise to intertwined thread between your hand.
Firstly test the thread and for that, hod the string with your thumb and index fingers inside the loop on each side, then pull your right thumb and finger apart and Begin threading. It will be much useful for you. Try it and give us feedback.