UOK Karachi University master's admission 2017 evening programs and all the information are available here on our site; UOK Karachi University announces admissions in master and diploma program. It is the evening programs in the Karachi. He candidates wishing to join the university have a great chance to join UOK Karachi University and the female students who are busy in the morning for one reason so it is the great chance that they can also study in evening and in my point of view more than 50% females are studying in evening programs. There is no restriction for on the year passing the examinations also. There are two years master programs of four semesters and each semester consists of 6 months. One year diploma programs are also available here leading to master's degree. In one year diploma program there is computer and information science, environment science, Inclusive education and many other. So the candidates have a great chance to have admission in UOK Karachi University in evening programs. Because it is very easy to study in evening program. So do not wait and get admission there in UOK Karachi University. Evening program runs from 3:30 pm to 8:30 pm. Master level classes normally held between 5:00 pm to 8:00 pm.
The registration form will be available from the date of June 2017 to July 2107 on the payment of 1,000 Rs. The classes are getting started from August 2017 so the candidates are able to get admission there now in UOK Karachi University.
UOK Karachi University Masters Admission 2017 Evening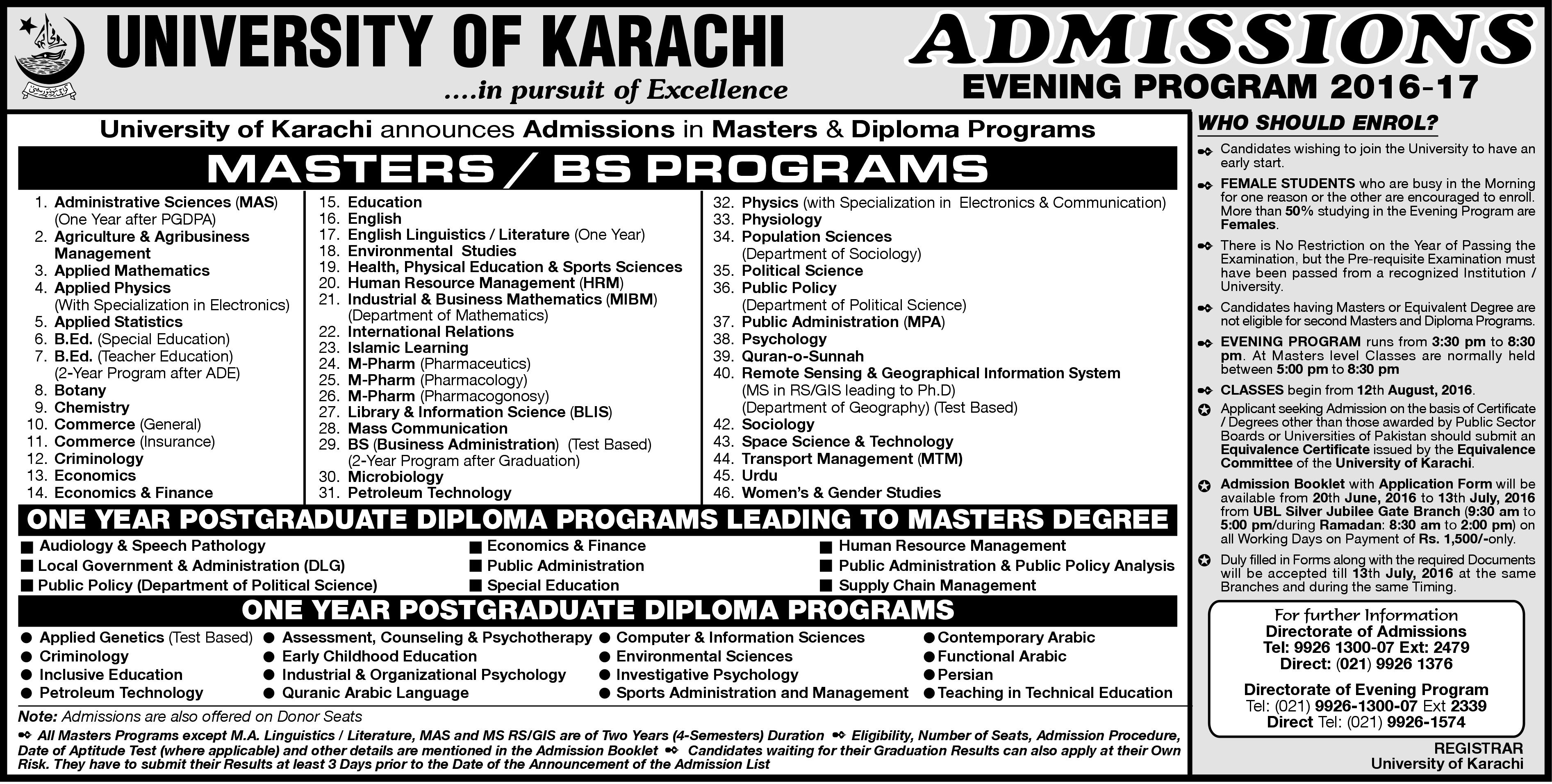 So if you are meeting the eligibility criteria then you must send your admission form before till the last date. University of Karachi has raised its name and fame among the top universities in Karachi Pakistan that offers undergraduate, graduate, masters and post graduate admissions in all the fields of education. so never miss the dates for UOK Karachi university masters admission 2017 evening.