University of Sargodha Mianwali Admission Process is gets slow down due to Youm e Ishq e Rasool (PBUH) Day here on 21 September 2012. There are all activities including Admissions,Entry Test as well as all exams are take a Pause after announcement of  this day. Last date of Admission 2012 has been extended upto 24th of September 2012 for Mianwali as per emergency notice issued here on Thursday actually. Why we join University of Sargodha, than the only reason is that this University having 8th Position among Universities of Pakistan on the basis of Research Output from 2008 top 2010.
It is also having 7th Position among Quality and Research based Ranking of Pakistani HEIs in the year 2011. It is also having free education for first Three Position Holders of the Boards and Universities. UOS announces both Graduates and Undergraduates Programs Admissions in Mianwali Campus. applications are invited for admission to the following Programs at Mianwali Sub-Campus, University of Sargodha.
University of Sargodha(UOS) Mianwali Campus Admissions 2012
Download Admission Form

Department of Business Administration
Department of Commerce
Department of Computer Science & IT
Department of Education
Department of English
Department of Islamic Studies
Prospectus along with admission forms of all degree Programs can be had from 7 September on payment of 150 Ruppes from the listed Branches of Habib Bank Limited as listed here in this advertisement.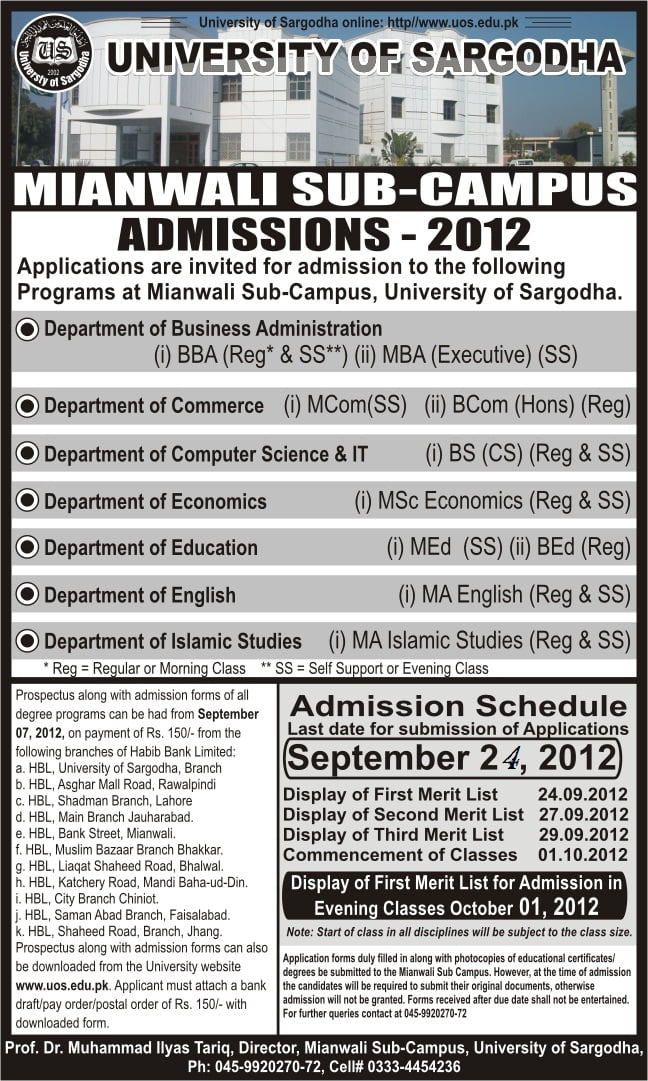 In Case of Any Qury You can contact with University at any Time as contact numbers already given here in admission Notice. Comment Section is also gives you space to speak about University of Sargodha (UOS) Mianwali Campus Admissions 2012 here at this page.