University Medical & Dental College Faisalabad Empowering the youth for a prosperous Pakistan now starts to intake admission against MBBS and BDS Program 2014. For Females only this College is well renowned for doing MBBS and BDS both degrees in Pakistan. The MBBS and BDS Program of this College University is approved by Ministry of Health Government of Pakistan. These Programs are also Accredited and approved by Pakistan Medical and Dental Council Pakistan. Accredited and approved by University of Health Sciences Lahore.
Eligibility Criteria for MBBS & BDS
University Medical & Dental College Faisalabad MBBS,BDS Admissions 2014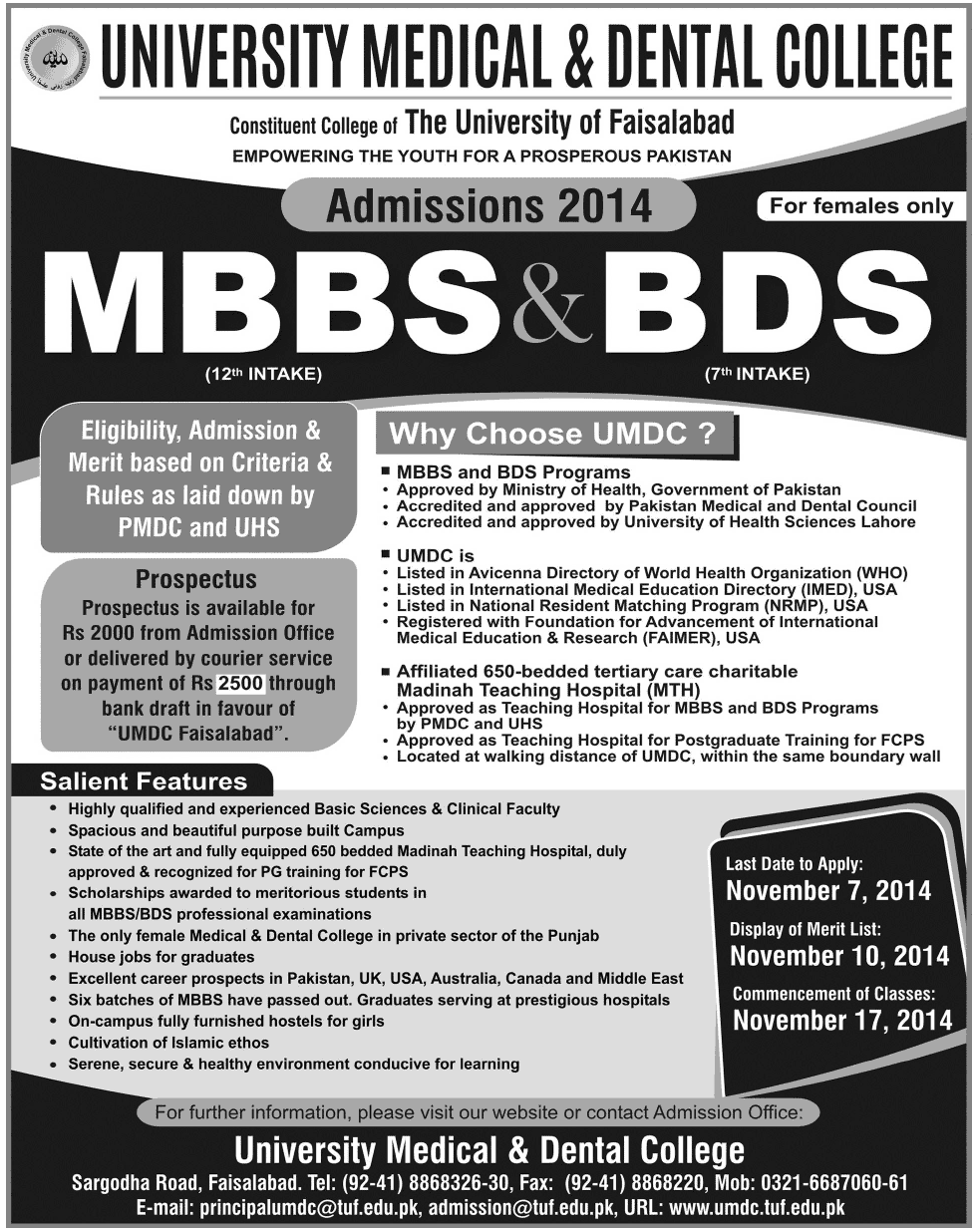 This College is attached with Madinah Teaching Hospital (MTH). This is an approved Institution as teaching Hospital for MBBS and BDS Programs by PMDC and UHS. MTH is located at walking distance of UMDC within the same boundary wall. This institute is listed in Avicenna Directory of World Health Organization(WHO). Listed in International Medical Education Directory (IMED), USA. This Institute is also listed in National Resident Matching Program (NRMP), USA.
This Institute is also Registered with foundation for advancement of International Medical education & research (FAIMER), USA. Eligibility, Admission & Merit based on Criteria & Rules as laid down b PMDC and UHS. Merit Scholarships offered by this University. Prospectus is available for Rs 1500 from admission Office or delivered by Courier service on payment of Rs 1800 through bank draft in favor of "principle UMDC Faisalabad".
Applications for admission to the first year of MBBS/BDS class will be accepted by the specified date. Applications received after the closing date will not be entertained. Detailed information regarding admissions are available on UMDC website or can be obtained through
e-mail: info@tuf.edu.pk
or by writing to
Admission Office
University Medical & Dental College
Sargodha Road, Faisalabad