University of the Punjab is going to giving an admission of IBA Admissions 2015 in MBA(Evening) and PGD(Evening), These are modern programs of Business Studies and postgraduate diploma. Those students that have wants to taking an admission in PU that should be keep in touch  with this page. The Eligibility Criteria for MBA Evening is Graduation with at least two second divisions in academic career and At least 4 years after 14 years education Or 2 years after 16 years education, executive Level practical experience/service in business, industry or government organization OR PGD in business administration from IBA, University of the Punjab Lahore.
Last Date for the submission of application is
Punjab University IBA Admissions 2015 MBA Evening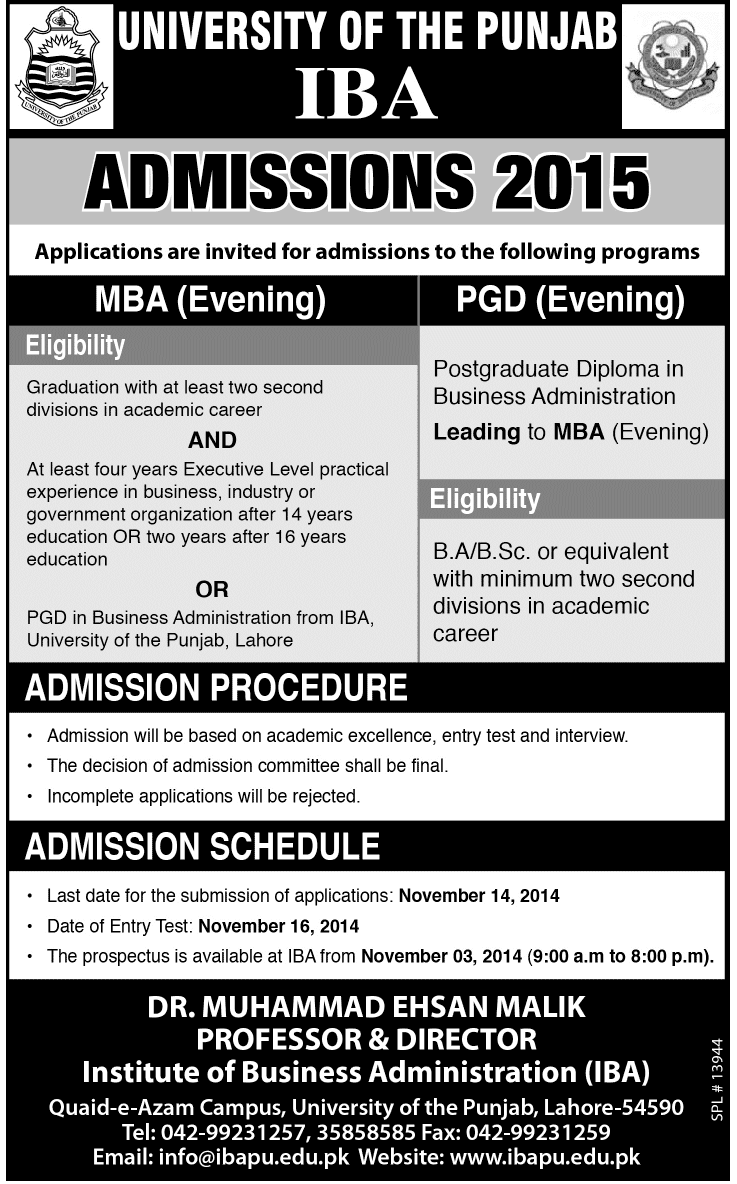 PGD (Evening) is Post graduate Diploma in Business Administration Leading to MBA (evening) ad Eligibility Criteria for this Diploma is B.A BS.c or equivalent with minimum two second divisions in academic career. Admission Procedure against this Admission Notice is admission will be based on academic excellence, entry test and interview. The decision of admission committee shall be final. Incomplete application will be rejected. Last Date for the submission of application is 14 November 2014.
Entry Test for candidates will be on 16th November 2014. The prospectus is available at IBA from: 1st November, 2014 : 09:00 a.m to 8:00 pm. In Case of Queries about admission or any kind of information relevant to this admission Notice is available here in below given contact details. Dr. Muhammad Ehsan Malik Professor & Director Institute of Business Administration (IBA). Quaid-e-Azam Campus, University of the Punjab, Lahore 54590. Tel: 04299231257, 35858585 Fx: 042-99231259. Email: info@ibapu.edu.pk Website: www.ibapu.edu.pk.